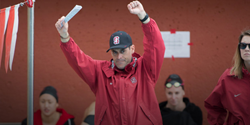 There is no greater honor than representing your country on the world stage, and I am tremendously thankful to have been appointed Olympic women's head coach.
SAN RAFAEL, Calif. (PRWEB) December 06, 2018
Greg Meehan, the Stanford University women's coach, will lead the 2020 Olympic American women. Meehan served in the same role for USA Swimming at the 2017 FINA World Championships in Budapest, Hungary and also represented the United States as an assistant coach at the 2016 Olympic Games.
"Greg has experienced tremendous success with both their collegiate teams and on USA Swimming's recent international staffs. He has earned a great deal of respect among our National Team members and other coaches around the country," Mintenko said. "Our staff looks forward to collaborating with Greg over the next 18 months to put a plan in place to guide Team USA to continued success in Tokyo."
A women's assistant coach for Team USA in Rio, Meehan coached five women onto the Team USA roster for the 2018 Pan Pacific Championships combining for 11 medals in Tokyo. Meehan's swimmers also made quite an impact on the 2016 U.S. Olympic Swimming Team with his swimmers combining to earn nine medals in Rio.
At Stanford, Meehan has guided his women's team to back-to-back NCAA titles in 2017 and 2018. He has served as the women's head coach at Stanford since 2012 and has guided the Cardinal to top-three NCAA finishes in each of the past five seasons. He is a three-time NCAA Coach of the Year.
Prior to 2016, Meehan served as an assistant coach for Team USA at the 2015 FINA World Championships and the 2014 Pan Pacific Championships.
"There is no greater honor than representing your country on the world stage, and I am tremendously thankful to have been appointed Olympic women's head coach," Meehan said. "As we move into the second half of the Olympic Quad, I am excited about what is ahead and what needs to get done in the coming months on the road to Omaha, and then on to Tokyo."
Meehan added, "I'd like to thank my wife Tess, and my son's Sal and James. Their love and support continues to inspire me through this journey of coaching. I'd also like to extend an incredible note of gratitude to everyone at Stanford University – our Athletic Director Bernard Muir, our associate head coach Tracy Slusser and the incredible women that have been involved in the Stanford program over the past 6.5 years. I look forward to working with Dave, Lindsay, the USOC and the incredible coaches and athletes around the country that help make our team the best in the world."
The Olympic Games Tokyo 2020 pool competition will be held July 25-Aug. 2, 2020. Swimmers will compete for spots on the Team USA roster for the Games at the 2020 U.S. Olympic Team Trials – Swimming set for June 21-28 in Omaha, Nebraska.
Greg Meehan, will be directing the 2019 Stanford Swim Camps and will be offering one session of day camp (June 17-20) and four sessions of elite overnight swim camps (June 22-25, June 26-30, July 1-5 & July 6-10) this summer.
Located between San Francisco and San Jose, in the heart of Silicon Valley, campers receive concentrated instruction on all four strokes along with starts and turns at Stanford's Avery Aquatics Center located on the beautiful Stanford University campus.
About US Sports Camps
US Sports Camps (USSC), headquartered in San Rafael, California, is America's largest sports camp network and the licensed operator of Nike Sports Camps. The company has offered summer camps since 1975 with the same mission that defines it today: to shape a lifelong enjoyment of athletics through high quality sports education and skill enhancement.