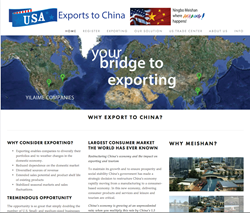 Before spending a lot of money trying to export to China, test the market and find buyers first.
Las Vegas, NV (PRWEB) September 24, 2013
Yilaime Corporation, with the support of Ningbo Meishan Free Trade Port Authority, is opening an Import Trade Center in China. The US Center imports "made in America" goods and services into China. The Center's purpose is to build a long-term foundation helping US small businesses provide their products to China's middle and upper income consumers while increasing jobs in the US.
US companies in China drive exports to China. According to the American Chamber of Commerce in Shanghai, nearly 60% of "all US exports to China come from businesses that operate in China."
The Center provides businesses with an operational presence in China helping US companies increase employment, sales, and exports. The Center also supports US Cities and municipalities that want to build trade ties with China, boost exports or attract investments.
The Import Trade Center – the first of its kind -opens in Ningbo Meishan Island China in late November 2013. The Center has over 18,000 sq. ft. of exhibition and showroom space; 3000 plus sq. ft. of warehouse space and office facilities. At the Center, local Chinese marketing specialists called Evangelists help US businesses market and promote their products.
According to Yilaime's CEO, Alton Perkins, who recently lived and worked in China for over 3 years, trading with US and Chinese businesses, "Before spending a lot of money on inventory, people, or other expenses related to exporting, businesses can first test their products in the market and get help finding buyers."
Buyers are lined up for agricultural and dairy products, wine, hospital and farm equipment, senior care and children products, luxury items such as aircraft and yachts, and even projects or EB5 investments. For a complete export list visit http://www.usaexportstochina.com/exports/.
Meishan Free Trade Port is like a Free Trade Zone in overdrive. The Port receives the most preferential policies and tax incentives. The Center can help trim costs for US businesses entering the Chinese market. According to a US Commercial Services staff report, conducting business in an area like Meishan's Free Trade Port "can save US businesses anywhere from 5 to 30%."
Additionally, US businesses through Chinese language websites will be able to market directly to over 530 million Chinese consumers on-line.
Visit http://www.usaexportstochina.com for more information about the Trade Center and how you can export to China and http://www.usaexportstochina.com/m-v-1/ for details on Meishan.