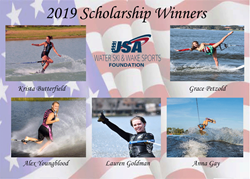 "We believe that well rounded individuals, those who can excel in competition on the water, perform in the classroom, and give back to their communities deserve to be celebrated for their many accomplishments. They are our leaders of tomorrow." - Tracy Mattes
POLK CITY, Fla. (PRWEB) June 20, 2019
The USA Water Ski and Wake Sports Foundation scholarships are awarded each year to water skiers who best represent through achievements in academics and sports, what it means to be an ambassador and an athlete; and whose contributions to school and community set them apart in a special way.
"We are so proud of these student-athletes' accomplishments both academically and athletically," said USA-WWF Executive Director Tracy Mattes.  "We believe that well rounded individuals, those who can excel in competition on the water, perform in the classroom, and give back to their communities deserve to be celebrated for their many accomplishments. They are our leaders of tomorrow."
USA-WWF is proud to have the following outstanding individuals represent our sport both on and off the water: Krista Butterfield, Anna Gay, Lauren Goldman, Grace Petzold and Alex Youngblood.