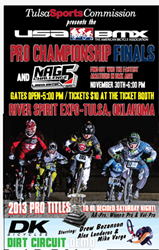 The economic impact of this event will bring millions of dollars to Tulsa's economy - as BMX racers fill local hotels, restaurants and shops. The success of this event would not be possible without the incredible support from the Tulsa Sports Commission.
(PRWEB) November 25, 2013
Both professional BMX racers from all over the World and our North America's fastest Amateur riders will compete throughout the weekend to decide who goes earns the illustrious USA BMX No.1 Championships. Over half of the 48 competitors from last year's Olympic Games are expected to compete, alongside more than 3,500 amateur entries, representing over 45 states and fifteen countries.
After holding 29 events all around the country since January, the USA BMX racing series concludes over Thanksgiving weekend in Tulsa, Oklahoma - at the newly re-named River Spirit Expo. Riders from around the globe will converge in Tulsa for what has been dubbed for decades as "The Greatest Race on Earth." Last year's event saw a record turnout, with over 3,400 entries from 18 countries, and this year's event is expected, for the first time, to reach the 700-race mark.
Throughout the three full days of racing, BMXers will compete in several different title chases, with the ultimate goal of going home with a No.1 plate zip-tied to their handlebars and one of the eight silver Cups to add to their trophy case.
There are a total of 62 "age group" titles on the line - counting both boys and girls classes, and cruiser divisions. Ages beginning with 5 & under and go up through 60 & over. Classes are additionally broken down by male and female. Being such a family-oriented sport - there are classes and divisions for kids of any age, as well as their mom, dad and even sometimes grandparents.
THE SCHEDULE:
Thursday: All Day Practice - from 7am to 9pm (w/ Olympic Athlete autograph signing at 3:30)
Friday: Race of Champions / Presidents Cup competition - starts @ 7:30am
Saturday: First round of qualifying races for The Grands - begins @ 9am
Saturday Night: Pro Spectacular & NAG-5 Challenge - doors open at 5pm / Race starts @ 6pm
Sunday: Final rounds of qualifying with semi's and mains, where the National No.1 Title are decided (Title chases begin approx. 12noon).
*Spectating is Free all weekend - except for the ticketed Saturday night Pro Championship Finals.