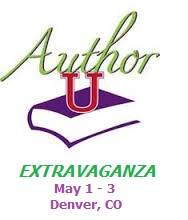 The focus of our business is to support authors and their amazing talent!
Los Angeles, California (PRWEB) March 27, 2014
The online media company, USA Book News, located in Los Angeles, California has become a sponsor for the three day, annual author support and author mentoring event known as the AuthorU Extravaganza, taking place May 1st – 3rd, in Denver Colorado.
The brain child of noted author and author mentor Judith Briles, AuthorU (for University), is a community of writers and authors, both online and in real time, who support, teach, share, and encourage each other. The AuthorU Extravaganza is an annual event held each year in Ms. Briles' hometown of Denver, where emerging authors and writers are able to come face-to-face with giants in the publishing industry. At the Extravaganza, novice authors learn many of the secrets of the book publishing business, as well as the steps to success in self-publishing and book marketing.
"The focus of our business, and my life, is to support authors and their amazing talent with the promotion of their books," said Jeffrey Keen, President and CEO of USA Book News. "Because Judith Briles and AuthorU serve the same goal, I felt it only right and proper to support her in her efforts to educate and empower emerging writers with a sponsorship of the Extravaganza."
The AuthorU Extravaganza is a three day event filled with seminars and workshops designed to support emerging authors with invaluable information from experts in traditional book marketing, traditional book publishing, alternative book marketing, book promotion, self-publishing, online book promotion, the world of independent publishing, and a great deal more. Featured speakers at this year's Extravaganza include:

Judith Briles - award-winning and best-selling author of 31 books, an international speaker, publisher, known as The Book Shepherd, and co-founder of Mile High Press.
Mark Coker, President of Smashwords
Dan Poynter, author of The Self-Publishing Manual
John Kremer, author of 1001 Ways to Market Your Books
Penny Sansevieri, author of Sell Your Books by the Truckload on Amazon.com
Joan Stewart, the Publicity Hound
Daniel Hall, the webinar king
Stephanie Barko, top literary publicist
Joel Comm, social media and marketing pioneer
Plus, a dozen other publishing and book professionals
The AuthorU Extravaganza will include seminars and workshops on a wide variety of topics that are critical to the success of emerging authors and writers, as well as established authors seeking guidance through the changing world of contemporary book publishing. Among the many important topics that will be shared with the attendees of the 2014 Extravaganza, these and more critical topics on 21st Century publishing will be discussed:
10 Trends Driving the Future of Publishing, MARK COKER
Make Your Website Do the Work: The 6 Site Must-Haves to Sell More Books, AMBER LUDWIG
Selling Your Books at Amazon and Other Online Retailers, AMY COLLINS
The Secret to Marketing on the Internet in Less Than an Hour a Day, JOHN KREMER
Virtual Book Blog Tours, STEPHANIE BARKO
Audiobook Cash flow Fast & Easy: Step By Step Blueprint, DANIEL HALL
Strategic Visioning Plans that EVERY Author Needs to Begin the Publishing Journey, GEORGIA McCABE & JUDITH BRILES
Beyond the Book – Taking Your Publishing Success to the Next Level, BRET RIDGWAY
Crowdfunding for Authors—The New Frontier to Fund Your Book Project, JUSTINE SCHOFELD
Nuggets for Newbies: 10 Time & Money-Saving Tips for Authors Just Starting Out, NICK ZELINGER
This year, the Extravaganza will be held at the Hyatt Regency Hotel at the Denver Tech Center, south east of downtown. The event will take place beginning on Thursday May 1st, and will run through the evening of Saturday May 3rd. More information may be obtained by visiting the AuthorU 2014 Extravaganza web page: http://authoru.org/extravaganza.
By sponsoring the AuthorU 2014 Extravaganza, Mr. Keen believes he and USA Book News are taking another important step in supporting emerging authors, independent publishers and the book publishing business in general, at a critical time in the publishing industry.
Located in Los Angeles, USA Book News is involved in numerous aspects of the publishing and entertainment industries, particularly in the form of their annual USA Best Book Awards Program. Jeffrey Keen is the President and CEO of USA Book News. Jeffrey has worked in the publishing industry in an executive capacity for over fifteen years and has helped hundreds of authors, publishers and public speakers garner media coverage and strategic partnerships that boost both sales and the reputation of represented clients. From working with mega-million best-selling authors to first time authors self-publishing their work, Jeff has brought insight, expertise and creativity to all of his projects. More information may be found at their website: http://www.usabooknews.com/aboutuscontactus.html.
# # #