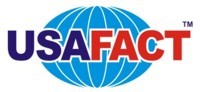 "We provide business owners and hiring managers with the peace of mind that they are getting a highly dynamic and compliant pre-employment background screen."- Matthew Davidson
Los Angles, CO (PRWEB) April 21, 2014
USAFact, a leading nationwide provider of pre-employment background screening services for more than 36 years, announced today that it continues to offer the most dynamic pre-employment screening background check available in the industry with SmartPak searches that know when to research county level courts and when to upgrade to thorough, compliant, statewide court searches. More importantly, the SmartPak knows when not to.
"We provide business owners and hiring managers with the peace of mind that they are getting a highly dynamic and compliant pre-employment background screen," said USAFact Chief Executive Officer Matthew Davidson. "We definitely go beyond what many of our larger and cheaper competitors offer, but we do understand that the give and take in any decision is very often budget related. We are pleased to remind our clients that our tech capabilities allow dynamic searches that represent the best total value."
The Department of Justice collects criminal records from counties in every state. This is the basis of most pre-employment background checks conducted across the country. However, state data available to private parties in 41 states and the District of Columbia is sometimes missing. Nine states, primarily in the West, do not allow access to this information. Furthermore, USAFact knows which of the 42 available options can either be compliance or turnaround nightmares. USAFact's system dynamically hunts for the best combined search value and compliance stability for any given candidate address, every time.
"We really recommend that hiring officers consider our dynamic SmartPak solution in their pre-employment compliance process," Davidson said. "Our team works to complete the most comprehensive pre-employment check that is in-line with our customer's needs, compliance level and budget."
Proper county level searches involve either a physical on-site or a direct online county criminal record search from the courthouse in each county. Note, there may be higher and lower level courthouses per county. Do you know what you need? A compliant county criminal record search consists of one name searched in one county. Each name and county thereafter, is considered a separate search.
The highest level of confidence for criminal checks and records research is achieved via a full investigation at the county and federal district courthouses conducted by court researchers in every county and district the applicant has lived in over the past seven years, sometimes longer. When multi-county criminal searches become cost prohibitive, there are some dynamic options that can allow quality searching without breaking the bank. When focusing on budget becomes too extreme however, many competitors offer simple, unverified, cheap, non-compliant database searches that violate consumer rights and lead to a very poor defensible position in a legal setting or when a candidate disputes a record. Because of our longevity and combined industry knowledge, USAFact criminal checks and background searches are one of the most comprehensive and dynamic on the market, while balancing budget and compliance.
"While there are a lot of great companies in the market, be aware of instant results in some areas as this may be red flag to an incomplete or non-compliant search. This may put your business at serious risk," Davidson said. "We trust you will make a smart hiring decision with our pre-employment screening services."
For more information about the USAFact pre-employment screening suite of services, please visit http://www.usafact.com.
About USAFact, Inc.
Successfully operating in the background investigation field for over 35 years, USAFact has been recognized as the hiring solution provider which delivers the most accurate, up to date, and thorough background screens in the industry. As a leading online pre-employment screening service, USAFact combines the latest Internet technologies with the expertise of an experienced professional staff to deliver a proven resource to thousands of clients, processing thousands of reports daily. Offering a variety of screening packages for businesses of any size, from the small non-profit to Fortune 500, USAFact provides services custom-tailored to their individual needs.
For additional information on USAFact's products and services please visit http://www.usafact.com, or call (800) 442-8651.