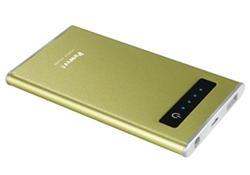 Adding a keychain makes this promotional USB drive even more functional as it can be affixed to your keys, purse, backpack, briefcase, or anything else you want to hang it off of
Ontario, Canada (PRWEB) March 30, 2015
USB Direct Inc., a company that offers a large selection of top quality flash sticks, USB drives and other products that make ideal promotional items for businesses, has just added some fantastic new items to their inventory.
For example, USB Direct has massively expanded their selection of mobile power banks. As a company spokesperson noted, with the use of mobile devices like tablets and smartphones at an all-time high, it is more important than ever to have a reliable way to charge these devices while on the go. People who own a power bank can plug it in at their convenience to fill it with power; then the portable battery product can be used to instantly charge mobile devices at any time and in any place. The mobile power banks from USB Direct can be customized with a company's logo or even shaped into the likeness of any object, and they now come in an even wider selection of colours and styles.
USB Direct has also just launched a new product called the Speedy USB Port Charger Converter. As its name implies, the Speedy Charger changes the average normal speed (1amp) USB port into an incredibly fast (2amp) USB port for charging both regular sized smartphones, phablets and tablets with amazing speed.
"All you have to do is simply plug your USB wire into the output port of the speedy charger and then plug the charger into any USB outlet (laptop, desktop computer, car, power bank, etc), and then set the switch on the charger to your device type," the company spokesperson explained.
For people who are in the market for customizable USBs, USB Direct recently added a new style to its lineup of products; the Push-Action USB is made from hard plastic with a soft PVC coating that clicks into action. The newly-launched USB, which is also customizable with a company's logo, is available in a rainbow of colours and looks as great as it works.
"Adding a keychain makes this promotional USB drive even more functional as it can be affixed to your keys, purse, backpack, briefcase, or anything else you want to hang it off of," the company spokesperson noted.
Anybody who would like to learn more about USB Direct is welcome to visit the company's user-friendly website; there, they can browse through the vast selection of customizable and high quality products. Don't forget to return often as USB Direct continues to expand their product line of amazing high-tech items boasting the highest quality at amazing prices.
About USB Direct Inc.:
USB Direct offers an exceptionally wide selection of flash sticks and USB drives in different materials, styles, and sizes to meet any company's promotional needs. All of these products are offered at competitive, affordable prices, and due to their functionality as well as style, they make fantastic gifts for corporate promotions. Custom logo printing and packaging as well as data preloading onto the devices can also easily be arranged. USB Direct serves both large and small companies and will work with clients to quickly and professionally meet their individual customized USB needs. For more information, please visit https://www.usbdirectcanada.ca/