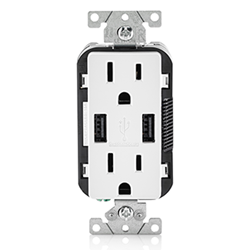 USB Ports are positioned vertically providing more space for maneuvering and reducing stress on USB cables
Issaquah, WA (PRWEB) June 23, 2014
TheHardwareCtiy.com is selling the new multipurpose charging device and receptacle by Leviton for less than retail value. The online tool store continually enhances their catalog with new and innovative home improvement products and supplies. Leviton's new charger/receptacle combo provides two 15A or 20A/125V tamper-resistant receptacles and two high-powered smart USB ports, all in one outlet.
Receptacles can remain free for other uses, while two electrical devices can be charged through the USB ports. The ports are placed in the charging device vertically to allow for two USB cords and two plugs to fit comfortably into the outlet. The electrical outlet can charge various electronic devices at the same time, including tablets, smart phones, digital cameras, e-readers, gaming devices, and more. A smart chip is included that recognizes charging requirements of connected devices, and optimizes charging time. Power for the grounded outlet is not compromised during charging.
The Leviton USB Charger/Tamper-Resistant Duplex Receptacle can be installed anywhere device charging occurs, both in residential applications and commercial applications. The neat and uncluttered electrical solution can provide convenience to customers and clients of hotels, coffee houses, salons, spas, meeting rooms, or restaurants.
The new receptacle can replace existing outlets easily, as it fits in a standard wall box and is easy to install. Standard wall plates can be used. The charger comes in five colors and will attractively match any décor.The new product can be purchased and shipped for free at TheHardwareCity.com. Purchasing products from TheHardwareCity.com gives shoppers an enjoyable experience while shopping from anywhere. Each item includes a photo and description. If a shopper has questions about any product, they can chat with tool experts through the website.
About TheHardwareCity.com:
As one of the largest online hardware stores, TheHardwareCity.com offers convenience in shopping. The store regularly enlarges their inventory with new tools and supplies. Since 2007, they have been experts in all home improvement departments, including electrical, heating and cooling supplies, plumbing, building supplies, power tools, lawn and garden, paint, and more. Visit http://www.thehardwarecity.com/ to ask the tool experts a question about home improvement products.