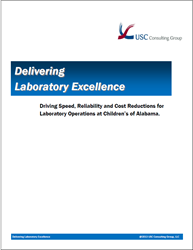 When USC Consulting Group helped us implement FIFO, we reached the desired turnaround times, reduced staff, recaptured our USCCG expense, and avoided the increases in expenses. Sustained over time, these savings become significant. - Laboratory Director
Tampa, FL (PRWEB) January 08, 2014
USC Consulting Group has just released its latest whitepaper from its Hospital & Healthcare Solutions Practice, titled 'Delivering Laboratory Excellence.' The whitepaper includes a detailed overview of the business process improvements implemented at one of their hospital clients. The whitepaper includes both short-term and long-term results of the improvements made by USCCG, demonstrating the sustainability of the initiatives and how these methods can be applied to other medical laboratories.
The whitepaper discusses how through utilizing techniques such as value stream mapping, Pareto analysis and observations audits, USCCG was able to create transparency for the laboratory operations allowing the client to understand why turnaround times varied among tests, establish current vs. optimal performance levels, eliminate or minimize the wastes causing performance gaps among other things. The implementation of a first-in, first out system (rather than batching samples) and a laboratory management operating system to monitor performance allowed the client to reduce turnaround times by over 50% across all test types.
"Given the margin pressure that hospitals are under and the additional spotlight from HCAHPS and Value-Based Purchasing, being able to reduce costs and improve patient satisfaction is something that all hospitals should be looking at. With the right business process improvement expertise it's something that they all can achieve," says Terry Maher, Hospital & Healthcare Solutions Practice Leader for USCCG.
About USC Consulting Group
USC Consulting Group, LP (USCCG) is an operations management consulting firm helping clients improve financial performance with a focus on operational excellence across the supply chain. Founded in 1968, the firm brings experience, enabling technology, and subject matter expertise to implement solutions, not just recommend them. With offices in the United States and Canada, and projects spread across the globe, USCCG has worked in many industries with companies of all sizes, including many in the Fortune 1000. For more information please follow us on LinkedIn or visit http://www.usccg.com