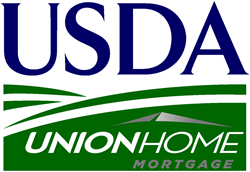 "We're excited to take part in an economy-boosting program that allows so many families to achieve their dream of homeownership.
Strongsville, OH (PRWEB) February 28, 2014
Union Home Mortgage announced today that it was the #1 originator of United States Department of Agriculture's (USDA) Rural Development mortgage loans in the state of Ohio in fiscal year 2013, originating 382 loans worth millions for Ohio borrowers.
"The USDA Rural Development Guaranteed Housing Program is the only program of its type that offers the opportunity for no down payment loans to average income families that are non-veterans. We're excited to take part in an economy-boosting program that allows so many families to achieve their dreams of homeownership." says Bill Cosgrove, CEO of Union Home Mortgage.
The mission of the USDA's Rural Development Loan program is to assist low and moderate income families in areas of Ohio where rural development is taking place. The USDA Rural Development program serves more than 80% of all counties in Ohio and a family of 5 earning who earn less than $89,000 can qualify. For more eligibility questions, visit USDA's website at http://www.rurdev.usda.gov.
While there are many lenders participating in the Rural Development success, Union Home Mortgage is proud to be helping families from all walks of life take the next step in their journey by purchasing a home. UHM is not only flattered, but excited to spread the word of its recognition from the USDA and its continued expertise in Rural Development loans. Despite its 2013 success, Union Home Mortgage intends to continue to grow its USDA footprint and meet the needs of the communities it serves by providing superior customer service.
Overall, 2013 was another great year for Rural Development-Ohio in the Guaranteed Housing Program. The program experienced a 15% increase over the previous year, an all-time record for Ohio, totaling $556,433,650 in loans. With the help of lenders, there are now over 5,000 new homeowners in Ohio who can thank USDA. Nationally, the program saw 162,000 loans approved for a total volume of $22.3 billion.
Borrowers can stay current on all Guaranteed Housing Program news and developments by keeping up with Union Home Mortgage on LinkedIn, Facebook, or Twitter), or feel free to visit their website to get in touch with a qualified loan officer.