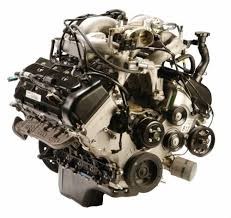 The Triton engine is one of the builds that are now available for retail sale from our website online.
Bristol, VA (PRWEB) December 29, 2013
The 1997 production of the Ford Triton engine helped to expand the horsepower available in the F150 brand of pickup trucks and some SUVs. Replacement motors for this engine family are now for sale at the Got Engines company. This company is now listing its used 5.4 Triton engines online for the first time with an updated sticker price.
The F-Series trucks remain the top selling pickups from the Ford Motor Company in the U.S. market. The pairing of larger V8 engines helped this vehicle brand to compete with rivals Chevrolet and Dodge for a larger portion of the auto market.
The 5.4L V8 motors now for sale at reduced prices by the Got Engines company is expected to create a new resource for Triton engine buyers. Owners of the F-Series trucks, junkyard parts buyers and other second hand purchasers of parts are expected to benefit from the reduced priced engines now for sale.
"The Triton engine is one of the builds that are now available for retail sale from our website online," said a source at the GotEngines.com company.
Different agencies in the automotive market now contribute to the Got Engines company inventory. New contracts are in place to purchase direct from suppliers of vintage and new edition motors built for late model vehicles. This change in company buying strategies has contributed to the low prices now available.
"5.4 displacement engines in the V8 size are now available in different valve configurations depending on the year a truck or SUV vehicle was produced in the U.S.," the source confirmed.
The low selling price of the used 5.4 engines online is now combined with the added protection of the free of charge warranties that are immediately prepared with each engine sold.
These GotEngines.com exclusive warranties are listed on the company homepage and detail the different parts that are covered under the extended term of protection. The automated price tools online are configured to display all engine pricing or buyers can call the company at 1-866-320-1065.
About GotEngines.com
The GotEngines.com company currently helps North American consumers to find automotive replacement engines that are available for hundreds of different vehicle brands online. This company supports the auto industry by offering gasoline and diesel engines at discounted prices. The GotEngines.com company resource is currently available 365 days each year to assist consumers conducting engine price research online. A full-time customer support staff now provides all of the telephone support and online contact generated for each customer service request. New engine brands are added on a weekly basis to fill up the company inventory.