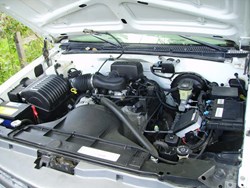 A large portion of the inventory that we've featured over the past several years online has been dedicated to GM vehicles
San Jose, CA (PRWEB) December 21, 2013
Vehicle production has benefited from new engine development put forth by the Big Three automakers over the past 10 years in the U.S. market. The Got Engines company is now featuring some of the latest engine builds from the GM company. The Silverado truck inventory is now updated to included used 6.0 Vortec engine units at http://www.gotengines.com/chevrolet/rebuilt-chevy-engines.html.
These engine builds were created to improve the horsepower in the 2005 through 2009 Silverado trucks in the U.S. market. The introduction of these OEM builds in the Got Engines inventory is the first for the 6.0 size in the Chevy truck inventory available. This heavy-duty V8 engine is one of the latest achievements for the General Motors company.
One benefit that buyers of engines can expect from this new inventory is the compatibility with other GM vehicles. While the 6.0 is a Silverado based motor, this brand can be fitted into other vehicles in the GMC builds. These additional installation opportunities are one way that the GotEngines.com company is increasing its services to buyers.
"A large portion of the inventory that we've featured over the past several years online has been dedicated to GM vehicles," said a source from the GotEngines.com company.
The 6.0-liter builds that are currently featured for sale online are related to the smaller Vortec builds that remain in the inventory. The 5.7 and 5.3 V8 blocks are two of the most recent inclusions for the smaller engines in the Vortec family. This increased inventory is setup to provide a new resource for used engine buyers to find authentic Vortec motors.
"The frequent decreases in price and current warranty plans offered to buyers have helped to position our company as a trusted supplier in the U.S. market," the source confirmed.
The GotEngines.com inclusion of the new 6.0 Vortec inventory online is one of the final upgrades of this year. New arrangements with engine suppliers have been created although new inventory is not expected to be included until the first half of next year.
All research that takes place by buyers on the company website is now directed through the locator system installed on the homepage to offer simpler access to price quotations and company support staff.
About GotEngines.com
The GotEngines.com company supplies American consumers with easier methods for comparing and purchasing used automotive engines online. This company offers its discount prices to any buyer in the United States. The GotEngines.com company resource online is maintained by internal company staff updating the inventory and pricing that is displayed online. All requests for information processed by this company are handled through a toll-free telephone system and online system for customer interaction. Freight policies at this company ensure that all shipments made to buyers are without company freight charges.