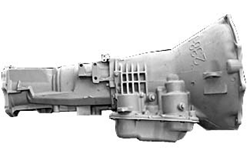 A used transmission can be a cost effective solution for mechanics, vehicle owners or junkyard parts buyers, and we've helped lead the sales of many units online for almost a decade
Pittsburgh, PA (PRWEB) December 06, 2013
Chrysler is known in the auto industry for introducing its Jeep and Dodge brands to the public over the past 25 years. Transmission units that fit into Chrysler compatible vehicles are now added in the Got Transmissions company inventory online. This company is now selling used A518 transmission inventory at a discount Internet price.
The A518 is one of the classic gearboxes that are now added in the warehouse transmission inventory that the GotTransmissions.com company has listed for sale online. The A518 was later upgraded to an electronic edition although the standard issue units are the inventory that is currently posted for purchase online.
The expanding Chrysler gearbox inventory that is now found by consumers who use the Got Transmissions website as a research tool includes the manual and automatic versions of popular units. The A518 is one automatic unit arrival that has joined the amount of OEM units that consumers can now purchase.
"A used transmission can be a cost effective solution for mechanics, vehicle owners or junkyard parts buyers, and we've helped lead the sales of many units online for almost a decade," a seller from the Got Transmissions company confirmed.
The Dodge and Jeep brands of transmissions that are featured at the Got Transmissions website have equally been upgraded for buyers in 2013. The TorqueFlite inventory as well as the modified electronic versions that are produced by Chrysler are featured in the accessible gearbox inventory now listed online.
All transmissions that are sold in used condition purchased through the GotTransmissions.com website or toll-free number at 1-866-320-1182 include the full OEM parts warranty coverage that has been standard with the company inventory since the launch of the website for consumers.
About GotTransmissions.com
The GotTransmissions.com company is one company that leads the market in the previously owned transmissions inventory online. This company has retained its partnerships in the automotive industry to assist consumers with locating discounted gearboxes for American and imported motor vehicles. The GotTransmissions.com company website team his responsible for writing the content and publishing information about company inventory for the public. Over 1000 pages of research are provided on the company website for any person to use as a guide when searching for used transmissions from most automakers in the global market.