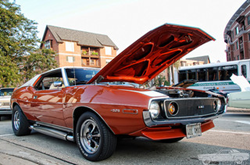 We provide AMC, Jeep and Chrysler motor blocks through our company and discount the cost of each motor for all purchasers
Orlando, FL (PRWEB) December 19, 2014
The classic AMC vehicles produced up until the 1997 year in the U.S. can now be fitted with used automotive engines thanks to the Revven company online. Inventory that includes used AMC vehicle engines is now for sale direct to consumers at near wholesale prices through the portal at http://revven.com.
AMC and Jeep vehicles often use the same motor blocks for V6 enabled SUVs, Jeeps and Wagons that are still on the roadways in the United States. This compatibility is one factor that has kept interest in the AMC auto parts market in many U.S. states. The preowned motors now marketed as available for sale include aftermarket warranties.
"We provide AMC, Jeep and Chrysler motor blocks through our company and discount the cost of each motor for all purchasers," said one Revven.com source.
One area of the auto industry that has served the Revven company well in recent years is the salvage and junk markets. Because vehicles are damaged or wrecked daily in many U.S. cities, new sources of inventory remain available to buy on a regular basis to help vehicle owners find exact matches for older vehicle brands.
"AMC is just one of the new brands of motors that are offered for retail sale through our portal and we're now offering shipping incentives for web or phone orders," said the source.
The Revven.com company will continue including more domestic automotive motor blocks to its national inventory through next year. Different choices in suppliers have been made to further extend the inventory selections that consumers can choose whiles shopping online for auto engine prices.
About Revven
The Revven company is one of the leading portals to find out of market auto engines for discount prices. The company specializes in connecting with suppliers and wholesalers in order to provide better sale prices to consumers. The Revven company has built its digital search tool that now helps auto parts buyers to find real time engine pricing for foreign and domestic auto engines for sale.