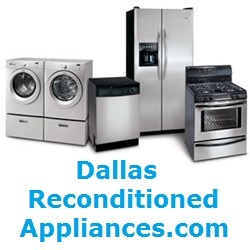 Now delivering & installing used appliances in North Richland Hills, Haltom City, and Watauga, TX.
Haltom City, TX (PRWEB) April 01, 2014
Dallas Home Appliances is proud to announce 3 new cities for its quickly expanding service area. Anyone needing used appliances in Haltom City, Watauga, and North Richland Hills can now get delivery and installation for reconditioned appliances like refrigerators, washers, dryers, ovens, and stoves. For more info visit DallasReconditionedAppliances.com.
This exciting new news comes in the wake of a big boost in business lately due to low prices and great service. The team sizes were recently increased to handle all the additional business the store has been receiving. After a meeting on how to offer better deals for people in DFW it was decided to offer courtesy delivery on refrigerators and washing machine – dryer sets. The special has been working out really well so the store may keep the promotion going for a while to help develop the growing customer base.
In other news a remodel is being discussed for part of the warehouse area to allow customers more access to see existing inventory. People looking for used appliances in Watauga, Haltom City, or North Richland Hills may not want to order from the website, so provisions are being made to be able to display more of the units.
The delivery service and installation options have been working out really well. Many people have chosen to opt for the extended warranty options as well. Even though all reconditioned appliances come with a 90 day warranty there are those people who like the security of having more peace of mind if something goes wrong for any reason.
The shop is proud to offer the most affordable used appliances in North Richland Hills, Watauga, and Haltom City, Texas and is now ready to deliver to these new cities in the freshly expanded service area. For more info visit DallasReconditionedAppliances.com.