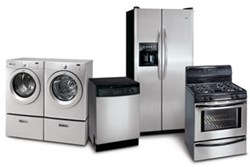 Affordable used appliances delivered and installed in Dallas and the surrounding areas.
Dallas, TX (PRWEB) January 05, 2014
Dallas Home Appliances now offers delivery and installation for affordable used appliances in Dallas, Irving, Grand Prairie, and Oak Cliff, Texas. Reconditioned and used appliances such as refrigerators, washing machines, dryers, electric & gas ovens and stoves, as well as glass top and traditional ovens and stoves are now available for immediate delivery and installation. For more information, call 972-525-0630 or visit the website at http://www.dallasreconditionedappliances.com.
The new delivery and installation services for used appliances in Dallas and the surrounding areas come as more people have come to appreciate the value and savings when new appliances are needed. Having an existing appliance quit or go bad causing the need to go buy new appliances is never convenient. More people are coming to understand that it actually saves time and money by having these quality reconditioned and used appliances delivered and installed by a professional.
Customers are saving gasoline as well as wear and tear on the vehicle by using the delivery service. By having an expert professional install the appliance, it gets done right the first time. Not all appliances share the exact same electric cord end which means the cord currently on the appliance may not be compatible with the electric outlet being used at the customer's home. Professional installation experts will always have all the different connections and electrical cords to make sure the appliances are ready for immediate use upon delivery and installation.
Anyone looking for used appliances in Dallas, Irving, Grand Prairie, or the Oak Cliff, Texas areas will be happy to find out that these new services are available. The delivery crew will even haul off the old appliances which is also an added value. When a person takes time to consider all the time and effort it will take to purchase new appliances, transport them, complete the installation process, and haul away the broken appliances, it become obvious as to why this new delivery and installation service is so valuable.
Warranty options are also available for all used appliances including refrigerators, washing machines, dryers, ovens, and stoves. Inventory moves fast so the website might not be updated in real time. Anyone looking for used appliances in Dallas, Irving, Grand Prairie, or the Oak Cliff, Texas should ask about what is currently available by calling 972-525-0630 or submit a current stock request by filling out the form on the website at http://www.dallasreconditionedappliances.com