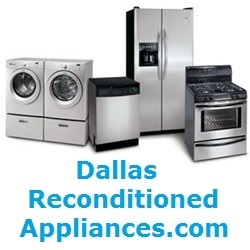 Dallas Home Appliances now installs and delivers used appliances in Euless, Grapevine, Bedford, Hurst, and Colleyville, Texas.
Euless, TX (PRWEB) March 23, 2014
Dallas Home Appliances now provides installation and courtesy delivery on used appliances in Euless, Grapevine, Bedford, Hurst, and Colleyville, Texas. This newly expanded service area results from achieving fast growth and having a very successful campaign providing the highest quality used appliances in the Dallas - Fort Worth area at affordable prices.
To help celebrate this new service area the company is offering some special promotions - which can be seen on the website at DallasReconditionedAppliances.com.
Due to a high volume of calls from people looking for deals on cheap used appliances in Grapevine, Euless, Bedford, Colleyville, and Hurst this new service area was set up and expanded to help satisfy new customers. Plans to remodel the showroom are on the calendar and staff members are currently looking for additional locations for more showrooms and warehouses to meet demand.
All top major brands are available for immediate pickup or delivery, and installation is available as an additional option. Every reconditioned appliance comes with a 90 day warranty. This includes all refrigerators, washing machines, dryers, ovens, and appliances in Bedford, Colleyville, Grapevine, Euless, and Hurst, Texas.
Be sure to ask about an Energy Star or energy saving used refrigerator with options like ice makers, water dispensers, side by side, top freezer doors, and bottom freezer drawers that slide out. Thanks to improvement in compressors and insulation today's reconditioned refrigerators are much better than what was available in the past. Going with a newer model used refrigerator will cut energy bills and provide a unit that will last longer.
The selection of used washers and dryers is huge. Just about every type, option and color are available to choose from. There are stackable units, front loaders, top loaders, and high volume series for washing large comforters like at the local laundry mat.
Anyone looking for quality refurbished used appliances in Hurst, Colleyville, Euless, Bedford, or Grapevine can get more information by visiting DallasReconditionedAppliances.com.