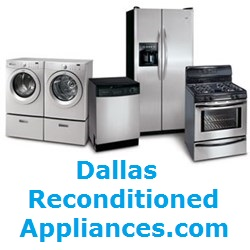 Dallas Home Appliances expands to deliver used appliances in more areas around DFW.
Desoto, TX (PRWEB) March 21, 2014
Dallas Home Appliances is proud to announce adding new service areas to its rapidly expanding market. A new 90 day warranty has also been added to used appliance sales. The company is currently offering a complete line of reconditioned used refrigerators, washing machines, dryers, stoves, ranges, and ovens. For more information visit DallasReconditionedAppliances.com and ask about courtesy delivery services.
Almost every make and model under the sun is available for sale, and the experienced technicians also have the ability to perform repairs depending on the model and availability of spare parts. Some older discontinued models are harder to accommodate.
Dallas Home Appliance provides the best selection of reconditioned used appliances in Lancaster, Desoto, Red Oak, and Waxahachie with a large selection of washers, dryers, dishwashers, refrigerators, and stove top ranges. There is no need to waste money on full priced appliances when the best value can be found at Home Appliances.
Appliances are serviced all over the whole Dallas Fort Worth Metroplex area so feel free to call when the best techs in the area are needed to get problems taken care of quickly and affordably. With years of experience these techs will be quick to locate the problem and fix it in a jiffy. Many of the best brands of the highest quality like Magic Chef, Kitchen Aid, and Roper are carried.
The warehouse has the highest quality of top loading washers from top brands like LG. LG has become one of the highest quality washing machines and has a reputation for its energy efficiency while providing a great price. Save money by buying used appliances, reduce carbon footprints, and save water from manufactures not having to make a new product. This is the best way to go for anyone needing used appliances in Red Oak, Lancaster, Desoto, and Waxahachie.
Used Washing Machines
Used Washing Machines come in several different types and a very popular one is the high efficiency top loading washer. These kinds of washers only fill up partly to use less water and they also spin at higher speeds which results in clothes not needing to be dried as much and also means less energy consumption. High efficiency top loading washers can hold more clothes than a regular top loader and usually washes better. LG carries a great reputation for being one of the best quality top loading washing machines. Come and get the best quality used top loading washers at our Appliance store that will satisfy anyone.
Used Dryers
There is a nice line of dryers from full size to compact. When looking to dry bulky items like comforters then the full size dryer would be a great choice for drying needs. Compact Dryers are more for apartments and customers who are single.
Used Refrigerators
For customers looking to have an eye level for the refrigerator section than bottom freezers would be the best option. Bending over is necessary to reach the freezer section but for most customers the refrigerator section is the part they use the most.
Used Ovens
For a cooking enthusiast gas is the best way to go for culinary needs. It is easier on the cook to judge the heat and they are friendly to all different pot types and sizes. Ranges, stoves, and ovens including electric, gas, conventional, and glass top versions in many different colors and finishes are available for immediate delivery and installation.
No matter what type of used ovens, washers, dryers, or refrigerators are needed, the best deals for used appliances in Waxahachie, Desoto, Lancaster, and Red Oak can be found at Dallas Home Appliances. Visit DallasReconditionedAppliances.com for more info.