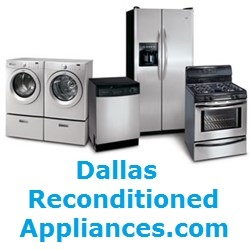 Dallas Home Appliances proudly announces expansion to include delivery & installation for used appliances in Plano, McKinney, Allen, Frisco, and The Colony, TX.
Plano, TX (PRWEB) March 22, 2014
Business is booming as more people go green by purchasing used appliances. To celebrate, the company is providing delivery service as a courtesy to anyone needing used appliances in Allen, McKinney, Frisco, The Colony, and Plano, Texas. For more info visit DallasReconditionedAppliances.com.
Going with refurbished appliances versus new ones is a form of recycling which helps the earth. Each person can attain a smaller carbon and water footprint by purchasing used refrigerators, washing machines, dryers, stoves, ovens, and ranges.
Dallas Home Appliances recently revamped its inventory process and streamlined delivery services to meet the increased demand for quality appliances at affordable prices. A new website was also built in order to help customers find what they need.
The company is also very proud to announce that it is currently seeking more locations for warehouses and showrooms around the Dallas - Fort Worth metroplex. The new phone receptionist that was recently added is doing an excellent job of keeping up with all the increased activity that is being enjoyed as a result of providing affordable prices and quality installations.
Anyone needing used appliances in McKinney, Allen, Plano, The Colony, or Frisco can visit the website and submit an order for immediate delivery and installation, or they can visit the warehouse and choose from the large selection of used washing machines, dryers, refrigerators, ovens, ranges, and stoves which come in gas, electric, and glass top options with many colors and finished to choose from.
The used stainless refrigerator selection includes a wide variety of styles like side by side, top freezer doors, and bottom freezer drawers. Other reconditioned refrigerator colors include white and black. Options like ice makers, water and ice dispensers in the door, and shelving means there is plenty of variety for people to choose from.
The reconditioned used washing machines include small apartment style, stackables, oversized, and front loaders. There are also many used dryers to choose from as well for anyone that wants a matching set.
At the end of the day it will be hard to find courtesy delivery services or a better price on used appliances in Frisco, The Colony, Allen, Plano, or McKinney, Texas. Just one visit is all it will take to see why more people choose Dallas Home Appliances for quality service and affordable prices. For more information visit the website at DallasReconditionedAppliances.com.