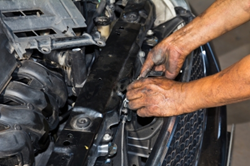 Avant and Sportback vehicles that use the 4.0-liter V8 are now directly supported by our used condition Audi inventory
Cleveland, OH (PRWEB) June 22, 2015
Technology improvements in the performance vehicles industry has made it possible for brands like Audi to feature higher horsepower motors since the year 2012. The Preowned Engines company is announcing its new inventory of used Audi 4.0L TFSI engines that are featured in the import section of the company warehouse at http://preownedengines.com/audi-4-0-tfsi-engine-used.
The used Audi TFSI engine blocks that are now in stock and available for shipping to Canadian and U.S. buyers are twin turbo editions. These models have been used extensively in the S6 and S7 vehicles over the past several years. Consumers who will purchase the second hand blocks this year will receive complimentary shipping.
"Avant and Sportback vehicles that use the 4.0-liter V8 are now directly supported by our used condition Audi inventory," said one Preowned Engines sales rep.
The imported 4.0L TFSI engines that are now posted for sale on the POE company website are blocks that include a revised warranty plan. A new feature for coverage of a minimum of 24 months is now being provided for all V8 Audi builds that are in stock between now and the remainder of this year.
"The used gasoline and diesel motors that are featured in our inventory now receive the extended policies for parts coverage that we are now supplying," the rep included.
The current inventory of foreign produced vehicle motors that are available at the Preowned Engines website can be ordered using the offline customer support number at 1-866-320-1065 or ordered through the e-commerce center on the company website.
About PreownedEngines.com
The PreownedEngines.com company is one of the market leaders in the used condition motors industry in the United States. The company has surpassed its inventory goals this year and expects to reach new numbers next year. The PreownedEngines.com company has its own internal team of product specialists that work daily to find and acquire top selling motor blocks across the USA.