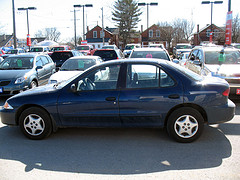 The national dealer system we've put into place has boosted our searchable inventory and will benefit all vehicle components buyers
Midland, TX (PRWEB) March 24, 2015
Buying a replacement vehicle component in used condition is not easy for some consumers who do not have a salvage yard or junk yard to review available inventory. The Car Parts Locator company is now including used car alternators for sale inside of its nationwide inventory database of dealers at http://www.carpartslocator.com/used-car-alternator-sale.
The entrance of the alternators in the consumer accessible inventory this year is expected to provide a fresh resource to car owners who prefer to buy second hand auto parts. Because an alternator is used in all foreign and domestic motor vehicles, replacing one at a lower price point should be helpful average Americans who appreciate saving money.
"The national dealer system we've put into place has boosted our searchable inventory and will benefit all vehicle components buyers," said one CarPartsLocator.com rep.
Aside from selling discounted car alternators this year, the Car Parts Locator company has expanded into providing commercial and consumer grade truck components. Top brands like Chevy, Ford, Isuzu, Mercedes and Mitsubishi are represented when people interested in exploring parts pricing use the inventory database available.
"Someone can now use our system as a price research tool, place to purchase components or to match VIN numbers for vehicle models entirely online," said the rep.
The Car Parts Locator company has started to include more junk parts dealers in its network of companies that provide parts distribution to consumers. As new inventory becomes available, the automated system will be able to showcase salvage components for sale in small and large cities across the United States. Every person who accesses the finder will be able to find one or more yards that specialize in salvage OEM car parts.
About CarPartsLocator.com
The CarPartsLocator.com company offers a national auto parts search tool that connects consumers with thousands of available vehicle parts for sale. A simple checkout process, price comparison option and information about warranties is provided through use of the CarPartsLocator.com website. The company adds more dealers and components for consumers to review weekly.