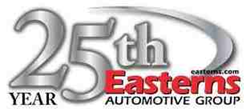 As our CEO likes to say, 'Test Everything, Settle for Nothing, and Be the Leader.' We feel that this saying truly sums up who we are at Easterns Automotive Group
Washington, DC (PRWEB) November 13, 2014
Easterns Automotive Group, a Washington DC used cars dealership, recently completed shooting a fun commercial that features three popular local professional athletes. Bradley Beal from the Washington Wizards, and Washington Redskins players Brian Orakpo and Jordan Reed were all part of the photo shoot, which focused on the company's 25th anniversary.
In addition to the new commercial and milestone anniversary, Easterns Automotive has been having a banner year. As a company spokesperson noted, 2014 has been the best yet for the dealership, with over $90 million in sales so far this year. This fact probably doesn't come as a surprise to the many satisfied people who have come into the showroom over the past two-plus decades. For drivers who are looking for top quality used cars DC area Easterns Automotive Group is ready and willing to help.
"We are also excited to announce the relocation of our 140,000-square-foot headquarters," the spokesperson said.
"We are moving our corporate headquarters and central vehicle reconditioning center to a brand new, state of the art location that is still within Sterling, Virginia."
Because Easterns Automotive Group, which specializes in used cars for sale in DC, believes strongly in giving back to the community, the dealership has also upped its commitment to community involvement. One way it has done this is by its Pay It Forward segments, which run regularly on FOX 5 DC.
"As our CEO likes to say, 'Test Everything, Settle for Nothing, and Be the Leader.' We feel that this saying truly sums up who we are at Easterns Automotive Group," noted the company spokesperson.
Anybody who would like to learn more about Easterns Automotive Group is welcome to visit their user-friendly website; there, they can search through their huge selection of over 1,000 cars. People who are in the market for a new-to-them vehicle may come in to Easterns Automotive in person, or call or chat online ahead of time. The friendly and experienced team is always happy to help customers find the best vehicle for them.
About Easterns Automotive Group:
Easterns Automotive Group has served the Maryland, DC, and Virginia communities for 25 years and has sold over 100,000 certified used vehicles. Easterns has five convenient locations around the DMV area, and every Easterns vehicle has passed a rigorous 110 point certification check so customers can buy with confidence. For more information, please visit http://www.easterns.com/