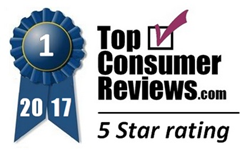 With an excellent reputation and simple approach to shopping for a vehicle, TRUECar earns our top ranking among websites for buying Used Cars in 2017.
Overland Park, KS (PRWEB) October 04, 2017
TopConsumerReviews.com recently gave a best-in-class 5 star rating to TRUECar, a leader among websites for shopping for Used Cars.
Why do people buy used cars? While "pre-owned" vehicles may not be as exciting as driving a shiny new car off the lot, the cost savings can be compelling: new cars can depreciate by more than 10% just from leaving the dealership! And, not everyone has the money - or the credit score - needed to afford a brand-new car, making used cars an excellent choice for many shoppers. Unfortunately, finding the right used car can be a frustrating experience. Not only do customers have to handle pushy salespeople at some car lots, but they also have to determine if the used car has any hidden or not-so-hidden flaws that make it more of a lemon than a luxury. Completing the purchasing process online can alleviate many of the car shopping aggravations and expand the potential used car inventory nationwide.
"Finding your next new-to-you vehicle is easy when you start your shopping at TRUECar," said Brian Dolezal of TopConsumerReviews.com, LLC. "Just enter the make and model of the car you're looking for or click on the "Shop Used" button. Along with your zip code, you'll see all of the matches in your area. Don't miss the ones marked "Great Price" or "Good Price": this is how the site shows you which of your results are priced competitively, below market price. Also, if you want to know a particular vehicle's history, the complimentary CARFAX report is easily available with a click of the mouse. TRUECar will not give your information to any dealers or private sellers without your express permission, so you won't have to handle any unwanted calls or emails. With an excellent reputation and simple approach to shopping for a vehicle, TRUECar earns our top ranking among websites for buying Used Cars in 2017."
To find out more about TRUECar and other sites featuring Used Cars, including reviews and comparison rankings, please visit the Used Cars category of TopConsumerReviews.com at http://www.topconsumerreviews.com/used-cars/.
About TRUECar
TrueCar, Inc. is a digital automotive marketplace that provides comprehensive pricing transparency about what other people paid for their cars and enables consumers to engage with TrueCar Certified Dealers who are committed to providing a superior purchase experience. TrueCar operates its own branded site and its nationwide network of more than 15,000 Certified Dealers also powers car-buying programs for some of the largest U.S. membership and service organizations, including USAA, AARP, American Express, AAA and Sam's Club. TrueCar is headquartered in Santa Monica, California, with offices in San Francisco and Austin, Texas.
About TopConsumerReviews.com
TopConsumerReviews.com, LLC is a leading provider of independent reviews and rankings of hundreds of consumer products and services. From Used Cars to Auto Loans and Travel Insurance, TopConsumerReviews.com delivers in-depth product evaluations in order to make purchasing decisions easier.