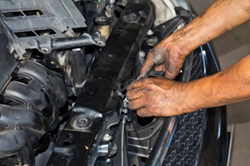 The 1980 to 1990 years of production at GM did account for several variations of the 2.8L build, and we are now proud to offer multiple versions on our website
Chicago, IL (PRWEB) July 29, 2015
The classic 6-cylinder motor blocks that were used in popular vehicle brands from Buick, Pontiac and Chevrolet are now being offered for sale to the public through the Preowned Engines company online. The vintage parts inventory is now featuring used Chevy 2.8L engines. More data about the units in stock can be reviewed at http://preownedengines.com/used-chevy-2-8-engine.
The V6 blocks that have been acquired through direct partnerships this year with Chevrolet parts suppliers is making it possible for buyers to purchase more than one RPO code build. The LE2, LH7, LG6, L44 and LB6 editions are all presented in 2.8-liter displacement through the new inventory update.
"The 1980 to 1990 years of production at GM did account for several variations of the 2.8L build, and we are now proud to offer multiple versions on our website," said one seller from the Preowned Engines company.
To ensure that consumers are able to receive expected quality from the V6 blocks in stock, the POE company is now including support for the OEM installed components in its complementary warranty plan. This plan is part of a new consumer package that is now being supplied with each shipment.
"Our new terms supply coverage of up to 36 months of basic OEM parts protection for almost every single component on the 2.8-liter motors," said the seller.
The Preowned Engines company now has a team in place to answer questions by phone for any of its GM products listed on its website. People can now call 1-866-320-1065 to speak directly with a support professional to inquire about mileage counts, sale pricing and freight terms.
About PreownedEngines.com
The PreownedEngines.com company has expanded its supplier contacts this year to build a much larger resource network to acquire older vehicle motors from American vehicles. The company now allows direct research on its homepage for its warehouse of products. The PreownedEngines.com company provides warranties with shipments that are sourced through its website.