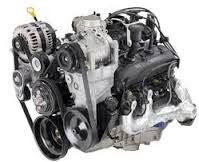 Most of the Vortec displacements are now inside our warehouse inventory posted online.
San Jose, California (PRWEB) August 03, 2013
The Chevrolet brand of vehicles rely on specific engine types that are engineered for longevity. These motors are now among the used Chevy engines that are added for sale at the Auto Pros website at http://autoprosusa.com/used-chevy-engines. This company is now selling these units at a special low price for all buyers.
"We're discounting these newly arrived engine types for our customers," a source from the Auto Pros USA website confirmed. These prices are among the lowest currently published by this company for genuine GM engine types online.
The Vortec platform is one of the most used by GM inside its cars, pickup trucks and other vehicle types in production. This series was introduced in 1985 and continues to be one of the most requested by secondary market dealers based on consumer demand.
"Most of the Vortec displacements are now inside our warehouse inventory posted online," the source added. This range includes the V6 and V8 units that have been produced between 1985 and 2005. The low pricing for this engine series is one factor that consumers will likely consider when purchasing replacements.
To match its low price efforts, the Auto Pros USA company has created a new bonus for each of its consumers who complete purchases that are based from the company website. Supplier negotiations have made it possible for this company to offer better terms of warranty coverage.
All sales in the Chevy brand and other automaker editions are pre-packaged with a limited term of warranty coverage. These terms are explained at the point of sale and can be one way to protect installations for a period of up to two years with regular engine usage.
About AutoProsUSA.com
The AutoProsUSA.com company supplies access online to its database of motors for sale to consumers. This company has created one of the most resourceful secondary market databases currently in the auto industry. The trusted relationships that are now concreted with supply agencies have helped to build the inventory levels available. The AutoProsUSA.com company displays all pricing for its engines through its pricing system installed online. This company makes researching, quoting and ordering replacement engines easy for the public. Complete customer support is offered through a national contact number.