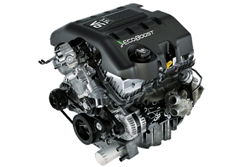 Almost every single part that is attached to the 8-cylinder builds now presented in our inventory are covered with the complementary coverage
Atlanta, GA (PRWEB) July 30, 2015
The motor blocks that were produced for Dodge pickup trucks in the U.S. between 1980 and 1990 were made available for purchase in used condition through the Got Engines website earlier this year. To improve its customer retention rate, new warranties are now supplied with each sale of used Dodge D350 engines that take place from the company ordering center at http://www.gotengines.com/blog/dodge-engines/dodge-d350-engine.
The expanded coverage will apply directly to the blocks in stock that feature a VIN starting with a "Z" or "5". This identification applies to the 5.9-liter versions that were used inside of larger trucks before the changeover to the Magnum series. The increased term of parts warranty coverage that is supplied this year is based on a reworked agreement with company suppliers.
"Almost every single part that is attached to the 8-cylinder builds now presented in our inventory are covered with the complementary coverage," said one salesman from the GotEngines.com website.
Consumers who are in the process of estimating the total cost to replace a Dodge truck motor are expected to benefit from the revised warranties. While the coverage plans shipped out with each build are free of charge, a person placing an order will still have to go through the activation process before a claim can be submitted.
"We have managed to keep our pricing lower this year as well as work with distributors that can deliver ordered merchandise faster," said the salesman.
The Got Engines support team will be available by phone for the remainder of this year to answer direct questions about what the warranties cover in each plan. Consumers can call 1-866-320-1065 during normal business owners to receive this support.
About GotEngines.com
The GotEngines.com company has acquired new inventory from Chrysler, Ford and Chevrolet parts distributors this year to expand its national inventory. The company accepts orders through its website as well as its nationwide phone system. The GotEngines.com company recently expanded its components warranty plans to provide additional coverage to purchasers of its inventory.