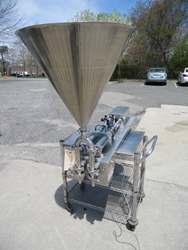 Bohemia, NY (PRWEB) June 04, 2014
Wohl Associates, Inc. is pleased to announce the addition of a wide variety of new products to its already sizeable inventory of high quality used offerings. These new product offerings are just a few of the many reasons why customers in all industries turn to Wohl Associates for all of their used machinery needs.
One of the new products that Wohl Associates has added is a Ron Ungar Engineering air operated stainless steel twin piston filling machine. The unit is equipped with a 25 inch diameter top mounted conical feed hopper. The product pistons measure approximately 2-1/4 inches by 10 inches long. The unit comes equipped with a foot switch to activate the filling cycle.
Another new product added to the Wohl Associates Inventory is a Perma-San 500 gallon type 316 stainless steel jacketed dual action process kettle. The unit's dimensions are approximately 62 inches in diameter by 40 inches deep on the straight side, plus a bottom head. The unit is jacket rated at 50 PSI at 300 degrees Fahrenheit. The unit comes equipped with side scraping agitation as well as a 22 inch diameter high speed turbine style head. The machine features "piggy back" style drives. Both drive motors are Eurodrive five horsepower, three face, 60 cycle 240/46o volt units. The machine comes equipped with two Eurodrive "Movitrac" variable frequency speed control boxes. The kettle is on legs and has a diameter of approximately two inches from the center bottom discharge with valve. The unit also comes complete with stainless steel hinged lids.
A third high quality used product offering is a US Stoneware tabletop stainless steel laboratory double cone blending system. The machine comes equipped with twin 24 inch wide chambers, with each having approximately two cubic feet of space in size. The unit is driven by a single phase electric motor.
If you have any questions about these or the other high quality used machines that Wohl Associates has to offer, don't hesitate to get in contact today. You can call Wohl Associates or use the "Contact Us" form on the website for more information.
About Wohl Associates
Wohl Associates is a leading dealer in the used processing and packaging machinery industry. With a history and solid reputation spanning over 40 years, they have earned the trust of their clients by offering quality pre-owned equipment, expert customer service and invaluable knowledge to their customers. They treat each customer on an individual basis and customers are provided the highest level of service. With a large inventory including cartoners, ribbon blenders, stainless steel tanks, unscrambling tables, colloid mills and vitamin manufacturing equipment.
Wohl Associates has the pre-owned machinery to fit any production line. To view their inventory and learn more, visit them at http://www.wohlassociates.com/.