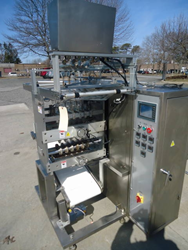 We pride ourselves in maintaining long-standing relationships with our customers.
Bohemia, NY (PRWEB) June 24, 2014
Wohl Associates, Inc. is pleased to announce the addition of three new high quality pieces of machinery, all of which help make the company a leading dealer of used processing and packaging machinery in the United States.
The first new product addition to the already versatile industry is a used Shenzhen Ourpack stainless steel, automatic, multi-lane vertical form, fill, and seal pouching machine. This five-lane machine has top mounted pistons and a stainless steel product hopper. The unit includes an eye for the registration of film, and it also includes a high-tech electronic control panel and a 14-inch-wide inclined takeaway conveyor for the finished pouch. The unit features single-phase electronics and a 50-60 cycle, 220 volt motor.
A second recent product acquisition is a used Bartlet/HMC Products horizontal form, fill, and seal pouch machine. The unit is equipped with approximately nine inch centers. The machine was last used at a food facility and is rated at up to approximately 70 pouches per minute. The machine is equipped with an Allen Bradley "Panel-View 550" control panel and has a wide variety of desirable features, including an air-operated filling head. The unit features 3/60/208 volt electrical specifications on the machine and single phase on controls.
A final new product addition is a used Hassia Model SVL 16/24 four across vertical form, fill, and seal machine. The machine is rated at up to 200 pouches per minute, which includes four lanes at 50 strokes per minute. The machine was last used in the packaging of applesauce at a food processing facility. The unit includes top mounted stainless steel hoppers and features a control panel and numerous additional features.
For additional information about these or any of the other high quality, used product offerings that Wohl Associates, Inc. has made available to its customers, don't hesitate to contact them today.
About Wohl Associates:
Wohl Associates is a leading dealer in the used processing and packaging machinery industry. With a history and solid reputation spanning over 40 years, they have earned the trust of their clients by offering quality pre-owned equipment, expert customer service, and invaluable knowledge to their customers. They treat each customer on an individual basis, and customers are provided the highest level of service, with a large inventory including cartoners, ribbon blenders, stainless steel tanks, unscrambling tables, colloid mills, and vitamin manufacturing equipment.