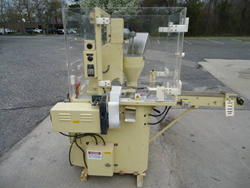 We pride ourselves in maintaining long-standing relationships with our customers.
Bohemia, NY (PRWEB) May 26, 2014
Wohl Associates is proud to announce the addition of a Kemwall Engineering rotary power compacting press to its already large inventory of high quality used products.
The unit itself is a used Kemwall Engineering eight station rotary power compacting press with machine number NE-37. The device is a hydraulic press that was previously reconditioned by the former owner and has a top mounted agitated hopper. Additionally, the press features a three foot long belt style takeaway conveyer, a "Satin" attachment, pressure control capabilities and Plexiglas guarding for added durability. The unit includes variable speed control that you can change as needed depending on the specific needs of your situation. The machine's electrical specifications include a three phase, 60 cycle, 220 volt motor equipped with a self-contained hydraulic unit. The rotary power compacting press is presently included with tooling capabilities for round compact situations. Tooling capabilities for square products are available at an additional cost.
A second high quality used machine has also recently been added to the Wohl Associates inventory. Another new product offering is a used Fette "Perfecta 3100" double sided rotary tablet press. The unit is a 55 station tablet press that has power feeders, pre-compression and keyed upper punch bores. The machine has been rated at up to 594,000 tablets per hour, which equates to around 9,900 tablets per minute. The machine itself has a Fette data control unit and includes lift up safety doors with interlocks, both of which go a long way towards making the unit as safe and secure as possible.
Information about these two machines, as well as the other high quality used products that Wohl Associates has to offer are available on request. To contact a representative from Wohl Associates by telephone, dial (631)-244-7979. You can also send an email to info(at)wohlassociates(dot)com or use the "Contact Wohl Associates, Inc" form on the official website.
About Wohl Associates
Wohl Associates is a leading dealer in the used processing and packaging machinery industry. With a history and solid reputation spanning over 40 years, they have earned the trust of their clients by offering quality pre-owned equipment, expert customer service and invaluable knowledge to their customers. They treat each customer on an individual basis and customers are provided the highest level of service. With a large inventory including cartoners, ribbon blenders, stainless steel tanks, unscrambling tables, colloid mills and vitamin manufacturing equipment.
Wohl Associates has the pre-owned machinery to fit any production line. To view their inventory and learn more, visit them at http://www.wohlassociates.com/.