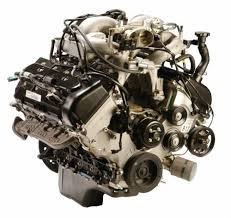 The 302 base introduced in the 1960s set the pace of future production for V8 engines through the next five decades.
Little Rock, AR (PRWEB) December 28, 2013
V8 engine production is one of the strengths of the Ford Motor Company for the U.S. auto market. The 5.0 series motors that were used for decades in multiple vehicles are now offered for purchase at the PreownedEngines.com company. This company is including used Ford 5.0 engine inventory for sale online at http://preownedengines.com.
This acquisition of the 5.0 edition engines from the Ford company are now mixed into the standard V8 inventory of motors marketed online. These units include the authentic versions of the 302 base as well as the newer Coyote builds. These engines are now available for retail sale in the United States.
Multiple enhancements have been applied to the V8 inventory of used motors by the Preowned Engines company throughout 2013. These changes have contributed to building one of the largest replacement Ford engine inventories consumers have open access to on the Internet.
"The 302 base introduced in the 1960s set the pace of future production for V8 engines through the next five decades," said a source from the PreownedEngines.com company.
One component of the new acquisitions that consumers are expected to appreciate when researching the added inventory online is the attached warranty plans. A no cost policy for warranties is now standard for each engine sold. All plans underwritten for engine protection are extended for a duration of 24 months.
"The 5.0 liter engine series now provided in the company inventory online is one strategy we're using to create more interest for buyers seeking high performance engines at a lower than retail price," the source added.
The Preowned Engines company inventory research system recently added online is one of the latest achievements by this company. This online method of research is helping users who prefer researching online or by mobile phones compared to calling customer support staff to receive engine information.
About PreownedEngines.com
The PreownedEngines.com company supplies automobile engines that are previously owned and discounted below the average retail pricing that most second hand retailers publish online. This company chooses to work closely with distribution agencies in North America to supply its inventory for sale. The PreownedEngines.com company website was redesigned this year and new tools are currently included for consumer access online. A toll-free telephone system is one of the latest advancements in customer support now provided by this company. Full support online and offline is currently offered before and after engine sales are completed.