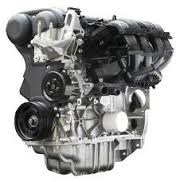 Our warranty program has always covered 90 percent of the parts attached to used engines.
State College, Pennsylvania (PRWEB) August 13, 2013
Protection from high engine mileage is the basis of an automotive warranty provided with the purchase of a new vehicle. Used vehicle owners replacing Ford engines can benefit from the extended three-year warranties now provided by the Got Engines company. This company is now applying new protection to its used Ford Ecoboost engine for sale at http://www.gotengines.com/blog/ford-engines/ford-ecoboost-engine-sale.
Ford currently produces this engine family in multiple sizes. Many of the cars produced after 2005 use the Ecoboost technology to improve horsepower and miles per gallon during use.
The four and six-cylinder variants that are held by the GotEngines.com company are affected by the new three-year warranty policy changes.
"Our warranty program has always covered 90 percent of the parts attached to used engines," said a sales associate for the GotEngines.com company.
The recent platforms used to acquire the newer Ford engine technologies has created the new changes in the policies that protect engines after they are sold. Engines for the F150, Focus, Fusion and other popular vehicles can now be purchased with the extended terms for no extra charge during order processing.
The protection these policy changes are providing vehicle owners, mechanics, warranty service centers and other buyers is rarely found through a secondary engine seller.
"We've developed a solid reputation since we started selling on the Internet in 2007 and build upon this reputation with each motor ordered," the rep added.
Apart from the Ecoboost engine types sold, different variants for the Ford inventory can be reviewed and purchased online. These types can be reviewed when visiting more than 1000 pages of content now published on the company website.
About GotEngines.com
The GotEngines.com company website made its introduction to consumers in 2007 and has remained a top provider of used automotive engine types for most automaker brands in the United States. This company adds to the inventory displayed to consumers online on a daily basis and new engine types and content pages are promoted daily. The GotEngines.com resources that are currently used online include the easy search tools that are generating pricing and warranty details for buyers. Each shipment routed by this company leaves the warehouse on the same day to promote faster shipping schedules.