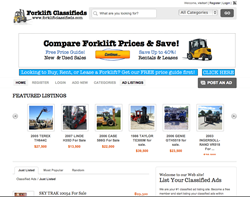 Because of its credibility within the industry, The U.S. Forklift Network felt challenged to respond to the need and created the ultimate one-stop shopping center for Used Forklifts – a mega site dedicated solely to Forklift Classifieds
Moorestown, NJ (PRWEB) September 27, 2013
Responding to studies that show that modern-day consumers turn first to the Internet to survey the field and compare products they anticipate purchasing, the New Jersey based U.S Forklift Network has just launched ForkliftClassifieds.com to provide more specific help to the industry beyond its already well-received general information to assist consumers searching for the right forklift for it business at the right price.
A spokesperson for The U.S. Forklift Network indicated that after having provided general information about the Forklift industry for the past year or so on its current ForkliftArticles.com site, consumers shared some concerns about the overwhelming amount of information on the Internet that they were forced to plow through to get the best deals. Also much of the information about used forklifts was found to be outdated. Some offers on the internet go back for three to six years and force the consumer to follow dead-end leads, consider archaic equipment and contact companies that no longer exist.
Because of its credibility within the industry, The U.S. Forklift Network felt challenged to respond to the need and created the ultimate one-stop shopping center for Used Forklifts – a mega site dedicated solely to Forklift Classifieds, where sellers could post their ads for used forklifts for sale and where buyers could find the equipment they need – all in one place – and best of all, where the information wouldn't go stale. Once a product is sold, it is removed from the site.
The new site would also eliminate the confusion of jumping around the Internet for the various categories relevant to a search for forklifts – namely, buying, renting or leasing. Forklift Classifieds also provides a unique service that should be accessed first upon visiting the site: a FREE price guide – to help the user narrow the search.
ForkliftClassifieds.com is easy to use – providing simple steps for registering, logging in and posting ads. The site is well laid out and easily navigable. While the growth of the Internet has contributed greatly to consumer awareness, it has also been the source of confusion because of the proliferation of information. ForkliftClassifieds.com sets out to unclutter the material and organize it for easy retrieval. There is also the satisfaction of knowing that a successful company with a reputation for dedication to consumer awareness for a variety of major industries is responsible for the website. Watch for similar services as Forklift Classifieds grows, and also consider visiting The U.S. Forklift Network to learn about their other sites that serve the Forklift Industry.