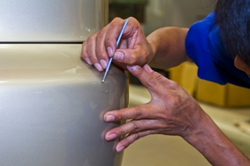 Our company has secured distribution partnerships with more national companies in 2015 in order to acquire and provide the exterior body parts now offered on our website
San Francisco, CA (PRWEB) July 22, 2015
Auto body parts replacements are one expense that consumers must sometimes pay when insurance policies fall short on coverage. The Locate Car Parts company is now supplying used front fenders for American cars through its components portal online. More information about prices or part numbers available can be found at http://locatecarparts.com/used-front-fender-for-sale.
The front-end components that are now available are OEM editions that can be installed without making modifications to a car body frame. The inventory is now split between ABS, composite and metal fenders to provide the biggest variety for auto owners or body shop mechanics who will buy from the LCP website this year.
"Our company has secured distribution partnerships with more national companies in 2015 in order to acquire and provide the exterior body parts now offered on our website," said one LocateCarParts.com source.
The replacement fenders for sedan, coupe and luxury motor vehicles that are being distributed this year are one portion of the total products that are being retailed by the LCP company. Owners of pickup trucks, vans or SUVs will be able to search the new parts database to find a match for almost any VIN number.
"The removal of a confusing SKU parts numbering system has improved the speed of our warehouse database now presented for use on our homepage," said the source.
The revisions completed last month to the warranty policies for the thousands of components in stock at the LocateCarParts.com company are now helping to expand the term of coverage from 30 days to a period of up to a year for all new orders placed this year.
About LocateCarParts.com
The LocateCarParts.com company features one of the easiest tools accessible by consumers to find used OEM components on the Internet. The company has suppliers across the USA that provide the local delivery services to consumers. The LocateCarParts.com company is now featuring domestic and foreign components at affordable prices through its web inventory.