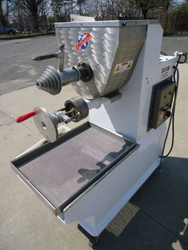 Bohemia, NY (PRWEB) May 12, 2014
Wohl Associates, Inc. is pleased to announce another in a long line of important additions to its used product inventory. The company's inventory and its versatile customer service options are just a few of the reasons why many people consider it to be an industry leader.
The product in question is a used La Parmigiana pasta mixer/extruder. The unit has a top mounted mixer with a safety grate that can be supplied with assorted dies. The unit ships on casters for increased portability. Additional information about this product is available on request.
Another recent addition to the Wohl Associates, Inc. product inventory is a used Techna/Saima model TGS-300 sheeter for colored pasta. The unit features stainless steel cabinetry and also has a 13 inch wide takeaway belt. Electrical specifications for the product include three phases, 60 cycles and 220 volts.
A third recent product addition involves a used Saima pasta sheeter. The unit features stainless steel cabinetry and is on casters for increased portability. The sheeter has a 20 inch by 19 inch top mounted hopper and comes equipped with an 11 inch wide takeaway belt.
Another used Saima product added to the inventory is a pasta sheeter/cutter machine that can be supplied with a choice of dies and cutters for different pasta varieties depending on the specific needs of the customer. This unit is also on casters for an increased level of portability.
For additional information about these or any of the other products that Wohl Associates has to offer, use the official website at http://www.wohlassociates.com. If you have any specific questions that you'd like to have answered or want to discuss the further specifics of the products that the company has made available, you can also call directly at (631) 244 -7979.
About Wohl Associates
Wohl Associates is a leading dealer in the used processing and packaging machinery industry. With a history and solid reputation spanning over 40 years, they have earned the trust of their clients by offering quality pre-owned equipment, expert customer service and invaluable knowledge to their customers. They treat each customer on an individual basis and customers are provided the highest level of service. With a large inventory including cartoners, ribbon blenders, stainless steel tanks, unscrambling tables, colloid mills and vitamin manufacturing equipment.
Wohl Associates has the pre-owned machinery to fit any production line. To view their inventory and learn more, visit them at http://www.wohlassociates.com/.