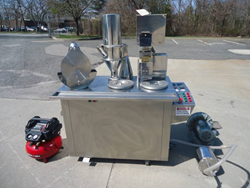 Bohemia, NY (PRWEB) May 19, 2014
Wohl Associates, Inc., one of the leading dealers of used packaging and processing machinery in the industry, is pleased to announce the addition of two new important pieces of equipment to its already robust line of product offerings.
The first new addition is a used Type 8 semi-automatic encapsulator/capsule filler. The unit is equipped with size 00 change parts. The machine is professionally rated at up to 15,000 capsules per hour. The machine comes with an enclosed stainless steel base. The machine has a stainless hopper and auger, a closing station, a vacuum canister, a vacuum pump, an air compressor and the standard control package.
Another new addition to the Wohl Associates, Inc. product offering is a used Chemicolloid Industries "Charlotte" type 316 stainless steel horizontal inline colloid mill. The machine is mounted on a base. The mill itself is driven by a 20 horsepower 3/60/230-460 volt motor.
Wohl Associates, Inc. provides used machines in a large number of other categories to customers all over the United States. Popular categories that the company services include are agitators, cappers, cartoners, cup and other fillers, liquid fillers, powder fillers, tube fillers, kettles, labelers, metal detectors, pulverizers, paddle mixers, tumbling mixers and more.
For more information regarding these or any of the other products in the Wohl Associates, Inc. product inventory, use the "Contact Us" form on the official website at http://www.wohlassociates.com. Individuals with more specific questions can also contact the company directly by calling (631) 244 -7979 for more information. Additional details about the aforementioned new product additions as well as any other unit in the product inventory are available upon request. New items are added to the inventory on a daily basis, which is why it is so important for prospective customers to call and inquire about specific products if they are interested. Wohl Associates also participates in liquidations, auctions, appraisals and the sale of individual machines or complete plants.
About Wohl Associates
Wohl Associates is a leading dealer in the used processing and packaging machinery industry. With a history and solid reputation spanning over 40 years, they have earned the trust of their clients by offering quality pre-owned equipment, expert customer service and invaluable knowledge to their customers. They treat each customer on an individual basis and customers are provided the highest level of service. With a large inventory including cartoners, ribbon blenders, stainless steel tanks, unscrambling tables, colloid mills and vitamin manufacturing equipment.
Wohl Associates has the pre-owned machinery to fit any production line. To view their inventory and learn more, visit them at http://www.wohlassociates.com/.