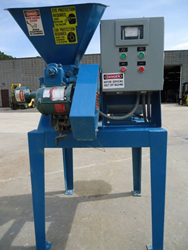 Bohemia, NY (PRWEB) June 05, 2014
Wohl Associates, Inc. is incredibly proud to announce the arrival of a Micron Powder Systems hammermill/pulverizer to its already robust product inventory of used machinery. Wohl Associates, Inc. prides itself on offering the highest quality used equipment of all types to its large and valued base of customers.
One of the recent used machines that has been acquired by Wohl is a used Hosokawa Micron Powder Systems "Mikro" hammermill/pulverizer. The unit is equipped with stirrup type hammers that are driven by a five horsepower 3/60/230-460 volt explosion-proof motor. The pulverizer has a product feed screw that is separately driven by a 1/4 horsepower 3/60/208-230-460 volt motor. The unit comes complete with its original legs and features a control panel for start/stop functionality that can be used with both the main drive and the feed screw drive. The unit also has an ammeter that you may choose to use depending on your needs.
Another addition to the already versatile Wohl Associates, Inc. product inventory is a Fitzpatrick Model DAS06 stainless steel comminuting/pulverizing mill. The unit is equipped with stainless steel fixed blades that are sharp on one side and blunt on the reverse side. The unit's main drive is a 10 horsepower 3/60/230-460 volt motor. The mill has a motorized screw for product feed capability that is separately driven by a 1/5 horsepower 3/60/230-460 volt variable speed drive. The unit comes equipped with stainless steel legs with castors for increased portability and ease of use. The machine has a stainless steel starter box and comes equipped with a stainless steel screen for maximum benefit.
If you have any additional questions about these or any of the other high quality used products that Wohl Associates, Inc. has made available to its customers, don't hesitate to contact them today. You can call the company directly or use the "Contact Us" form on the official website. Representatives are waiting to hear from you.
About Wohl Associates
Wohl Associates is a leading dealer in the used processing and packaging machinery industry. With a history and solid reputation spanning over 40 years, they have earned the trust of their clients by offering quality pre-owned equipment, expert customer service and invaluable knowledge to their customers. They treat each customer on an individual basis and customers are provided the highest level of service. With a large inventory including cartoners, ribbon blenders, stainless steel tanks, unscrambling tables, colloid mills and vitamin manufacturing equipment.
Wohl Associates has the pre-owned machinery to fit any production line. To view their inventory and learn more, visit them at http://www.wohlassociates.com/.