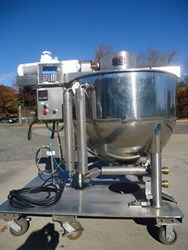 Bohemia, NY (PRWEB) December 04, 2013
Wohl Associates, a trusted leader in the used food processing and packaging machinery industry, is now selling 150 gallon stainless steel kettles in their already diverse inventory.
The addition of these large stainless steel kettles brings a new dimension to the wide variety of machines sold by Wohl Associates, all of which have a number of different options and capabilities from the line of industrial products from Lee.
For example, one of the used 150 gallon stainless steel kettles is a jacketed double mix kettle model with the dimensions of 42 inches in diameter by 36 inches in depth. The jacket is rated 40 pounds per square inch at 287 degrees Fahrenheit and is mounted on stainless steel legs with a stainless steel platform and casters. There is also a hinged stainless steel lid, for easy opening and closing. The stainless steel kettle also has a bottom outlet with valve that is approximately 2 inches in diameter, allowing it to be emptied quickly when necessary. The used kettle is also capable of tilt out of agitation assembly and has a stainless steel starter box which includes variable speed control.
Another used 150 gallon stainless steel kettle from Lee in the Wohl Associates inventory is an agitated hemispherical tilt kettle which is jacketed for 125 pounds per square inch at 353 degrees Fahrenheit. This kettle is equipped with scrape surface agitation which is driven by a 3 horsepower eurodrive, variable speed motor. It also has a pneumatic cylinder for tilt agitation as well as a second pneumatic cylinder for automatic tilt discharge and is mounted on a stainless steel tubular stand, with two internal stainless steel baffles.
There are a wide variety of other 150 gallon stainless steel kettles that have minor variations from the ones above which may be critical for whatever a customer's food processing or packaging processes may require. Another 150 gallon steel kettle simply has a pouring lip, which allows whatever is contained inside to easily be poured out in a manageable stream.
Wohl Associates also has several employees who are experts in the used processing and packaging machinery industries. They can help customers with any questions or concerns they have about the used machinery they need and can also track down specific pieces of machinery that's not in their inventory if a customer requires it.
About Wohl Associates
Wohl Associates is a leading dealer in the used processing and packaging machinery industry. With a history and solid reputation spanning over 40 years, they have earned the trust of their clients by offering quality pre-owned equipment, expert customer service and invaluable knowledge to their customers. They treat each customer on an individual basis and customers are provided the highest level of service. With a large inventory including cartoners, ribbon blenders, stainless steel tanks, unscrambling tables, colloid mills and vitamin manufacturing equipment.
Wohl Associates has the pre-owned machinery to fit any production line. To view their inventory and learn more, visit them at http://www.wohlassociates.com/.