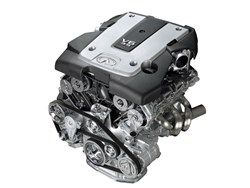 New price levels for our import engines is a new strategy to connect with more engine buyers who are without dedicated resources to find better discounts in the second hand engines industry
Orlando, FL (PRWEB) December 15, 2013
Nissan vehicles remain strong in sales of vehicles in the U.S. market based partly on the engine technologies that are used. The Preowned Engines company is now discounting all used Nissan engines that are sold in the U.S. to aid buyers in finding less expensive import motors at http://preownedengines.com.
This change to the sticker pricing for Nissan motors online is part of the adjustments to the import inventory now marketed in the U.S. The rise in inventory for non-U.S. vehicle engines enacted this year at the Preowned Engines company has helped to establish the new discounts featured for buyers of replacement engines.
Engines that fit into the Pathfinder, 240SX and other popular brands in the Nissan past and present lineup are featured for the adjusted sale prices now available. This range of engines includes the four-cylinder and six-cylinder builds that are commonly used in vehicles used in the U.S. market.
"New price levels for our import engines is a new strategy to connect with more engine buyers who are without dedicated resources to find better discounts in the second hand engines industry," said a source from the PreownedEngines.com company.
Because most brand new engines must be purchased from authorized dealerships, buyers hoping to locate a unit with low mileage can have reduced options in the U.S. The PreownedEngines.com resource was constructed this year to introduce a simpler method for finding inventory that is considered hard to locate due to import restrictions from some wholesalers.
"The Nissan engines inventory in used condition that we're marketing for new prices is combined with the other JDM and import engines that buyers can locate in our for sale inventory," the source included.
The Preowned Engines company has announced changes to its domestic inventory apart from the recent discounts on used JDM engines. Units that are featured from Ford, Chevy and Jeep can be found in the domestic division of the company warehouse for special sale pricing that is scheduled to remain in effect through the first half of next year in the U.S.
About PreownedEngines.com
The PreownedEngines.com company offers discounts to the American public when purchasing a replacement engine for any type of automobile. This company uses a network of automotive company suppliers to locate engines that are above average condition and are validated with reduced counts of mileage. The PreownedEngines.com company resource online provides ways that any buyer can research late model or classic engines before decisions to purchase are completed. This company employs a support staff who maintain a toll-free phone system to offer offline support for engine codes lookups or to acquire company pricing.