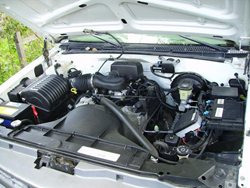 We added the 6.2-liter block earlier this year, and this model was used briefly in the Tahoe and Suburban vehicles produced by General Motors
Tampa, FL (PRWEB) August 27, 2015
General Motors constructed the Tahoe full-size SUV vehicle in the year 1995 to showcase the 4.1L V8 motor block. The Got Engines company specializes in providing preowned vehicle components to consumers in North America. The company is announcing its addition of used Chevy Tahoe engines to its revised inventory posted at http://www.gotengines.com/blog/chevy-engines/chevy-tahoe-engine.
The builds that are available for a consumer to review or purchase include several variations of the 8-cylinder Vortec motors. While the LY2 is a common RPO version, there were no less than 6 blocks manufactured for use in the full-size sport utility vehicles and trucks at GM. The 5.7, 4.8 and 5.3 editions are now a part of the total units in stock.
"We added the 6.2-liter block earlier this year, and this model was used briefly in the Tahoe and Suburban vehicles produced by General Motors," a seller at the GotEngines.com website said.
The support for the Tahoe and additional larger SUV motor vehicles at the GotEngines.com company will include a different version of the standard edition company warranty policy. Consumers will now benefit from a 36-month plan that was increased by 12 months earlier in 2015.
"The GM and subsidiary vehicle motor blocks that we are showcasing on our website will now be under a different term of components coverage thanks to our domestic suppliers," the seller included.
The Got Engines company website is now under a new timeframe for updates to continue providing an accurate inventory. The company database is updated every four hours to reflect sales or changes to stock numbers to alert consumers prior to ordering.
About GotEngines.com
The GotEngines.com company now has new arrangements with automotive salvage yards, dismantling agencies and wrecking yards across North America to showcase used condition engines inventory for sale. The GotEngines.com website features one of the easiest to use price quotation tools that helps consumers accurately price a car or truck motor for any brand.