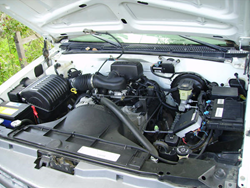 The Trailblazer SS SUV was produced for a short period by GM and features one of the largest Vortec motors in production
San Jose, CA (PRWEB) December 25, 2013
The Chevrolet vehicle series has introduced Super Sport editions for some vehicle brands over the past 30 years. The PreownedEngines.com company sells used GM based engines and is now including used Trailblazer SS engine inventory online at http://preownedengines.com.
These Vortec engine builds are featured online with a new lower price that is designed to help reduce the overall cost of a Chevy engine replacement. The SS series of engines and vehicles produced by General Motors are special editions that can be in short supply in some areas of the country.
The Preowned Engines inventory that is now marketed direct to United States engine buyers online is expected to attract vehicle owners, junkyard parts buyers, service centers and others interested in purchasing discounted special edition motors.
"The Trailblazer SS SUV was produced for a short period by GM and features one of the largest Vortec motors in production," a source at the PreownedEngines.com company said.
One issue that some replacement engine buyers are confronted with during research performed on the secondary market is higher than average mileage. Not all engines that are marketed by retail companies include lower mileage that is acceptable for average engine upgrades.
"The PreownedEngines.com company specializes in obtaining low mileage engine builds from its growing resource of engine distributors in North America," the source confirmed.
A brand new search system for locating all of the inventory now posted for sale online is now available for active use online. This new system provides an instant way of viewing company pricing, warranty information and shipment details for all engines in stock.
This search system is part of new engine research upgrades created by the Preowned Engines company this year. The Trailblazer SS motors in Vortec builds and other editions in the GM family can be found when conducting research using this configured research system.
About PreownedEngines.com
The PreownedEngines.com company helps consumers to find automotive engines that are used condition and are attached with a warranty at the time of sale. This company has configured the online resources now presented to the public in 2013 to supply price quotations and immediate shipment details. The PreownedEngines.com company distributes Ford, Dodge, Chevrolet, Toyota, Isuzu, Honda and other brands of engines inside the United States. This company has added a toll-free telephone number this year that is able to offer additional support solutions for buyers of automobile replacement engines.