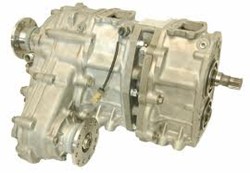 Some parts buyers love used units because of the price and value
Evansville, Indiana (PRWEB) July 30, 2013
Purchasing used automotive parts for four-wheel drive vehicles is now expected to be simpler process for buyers using the http://www.transfercasesforsale.com company. This company is now retailing its 4x4 used transfer case units on its website. This change to providing previously owned units is contributing to the reconditioned models existing in stock.
"We now have the ability to provide preowned assemblies for many of the most popular off-road vehicles," said a rebuilding specialist at the TransferCasesforSale.com company.
The 2009 opening of this company online featured its reconditioned units that have been well received by parts buyers in North America.
"Some parts buyers love used units because of the price and value," the rebuilder added.
The price structure that is now attached with each preowned 4x4 unit is based on the age and the testing that is involved. As one effort to expand upon offering higher quality, this company now features better testing for the previously owned units now ready for sale.
These tests are expected to offer a better quality build for the Ford, Chevy, Dodge, Toyota, Isuzu and Jeep builds that are listed on the company website for sale. The attachment of a structured warranty program is now a feature that buyers receive upon purchase. This two-year policy for protecting the OEM parts inside each case extends the reliability of each unit.
Parts buyers who are searching the Internet for used drive train parts like a transfer case now have the ability to keep up with inventory changes by visiting http://www.transfercasesforsale.com/blog online. This new company website section is delivering news and information before media outlets syndicate company supplied content.
About TransferCasesforSale.com
The TransferCasesforSale.com company now retails previously owned transfer cases from its single warehouse in the U.S. This company remains one of the most reliable rebuilding companies for case assemblies that are used for American and foreign brands. The automotive discounts that are provided by this company are monitored for trends and success rates with customers. The TransferCasesforSale.com company now features its searchable database of assemblies that makes it simpler to research used and rebuilt 4x4 parts. This company now ships each unit without charges for freight.