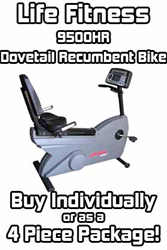 West Babylon, NY (PRWEB) November 03, 2014
Pro Gym Supply believes recumbent bikes are an important part of anyone's personal fitness routine. That's why they are offering an exciting new deal on the staple piece of equipment. Right now, customers can get Life Fitness 9500HR Dovetail Recumbent Bikes for $250 each or $800 for four.
Recumbent bikes are universally safe and beneficial for any level of fitness as they offer back support, a larger seat and are lower to the ground. The recumbent bike places less strain on the hips, knees, neck, shoulders and back than the upright bike, making it a better option for those suffering from arthritis or any previous injuries. Recumbent bikes utilize the large muscles in the legs, thighs and buttocks. Big muscles equal big calorie burn and more lean muscle mass.
The recumbent bikes sold by Pro Gym Supply have a Lifepulse™ Heart Rate Monitoring and Zone Training+™ Workouts that makes sure users don't get too comfy but do get a good motivating workout.
Most recumbent bikes are also now green. They are mostly self-powered, so they can be placed anywhere in the facility or home and save electricity.
Pro Gym Supply has put recumbent bikes in physical therapy centers, medical centers, college and university gyms, and in hundreds of personal and commercial gyms in America and beyond. For more information, visit Pro Gym Supply's website at http://www.progymsupplyli.com/.
About the company:
Pro Gym Supply is a supply of premium quality commercial grade used gym & fitness equipment. They are based out of Farmingdale, New York in Long Island. Pro Gym Supply has an extensive selection of used commercial treadmills, used commercial ellipticals, exercise bikes, spin bikes & group cycles, and a vast selection of commercial gym quality strength equipment. ProGymSupply.com stands out from the crowd because of their quality and the craftsmanship that is put into every single piece of refurbished, reconditioned and remanufactured commercial fitness equipment. They specialize in custom remanufactured products and can handle any job no matter how big or small.