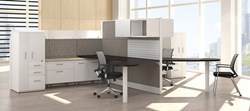 Purchasing high quality, affordable cubicles has never been easier.
(PRWEB) January 22, 2014
Online purchasing is quickly becoming the norm for businesses of tomorrow. The ease of access to information has created a more educated and purchase-savvy consumer. This "new" type of consumer has forced businesses to re-evaluate their website and online presence.
Grant Jones, CEO of UsedCubicles.com understands the importance of a responsive, informative website for the online consumer. "Online consumers aren't like your typical mall or catalogue shopper, they spend time researching products before making a buying decision and compare products and companies with greater ease online," Grant pointed out. "Your website's design and content play a huge role in the consumer's perception of your business. Clunky website design and a lack of information on a site can immediately discredit a business in a consumer's mind." It's with that thought process in mind that Grant began to develop a new design for UsedCubicles.com.
Understanding the consumer's online purchasing thought process was integral in establishing a new design for his site. "You really need to understand what type of customer you typically attract and what is important to that customer while they browse your site," Grant stated. "If you are able to pin point what those important factors are and incorporate that into your website, the possibilities are endless." Grant's new website UsedCubicles.com does just that.
UsedCubicles.com's new website design has an updated look and feel that creates a more user-friendly experience. Its simple design and ease of use make it simpler for visitors to find the perfect used cubicle for their office. Visitors are able to quickly browse cubicle inventories, which are updated daily, by brand and size. Each used cubicle has a number of photos to view. Grant has incorporated a new content strategy as well, which aims to educate the consumer as much as possible about various office cubicle topics through their blog. A new live-chat feature allows a visitor to ask a quick question and receive a response in real time, which is not too common in the office furniture world.
"Selling pre-owned items online can be difficult. You need to establish trust with a visitor, which is why we provide a number of pictures for each item and detailed listings of the product's condition," Grant explained. "We obviously know the value of purchasing pre-owned cubicles, but you need to the consumer to understand that as well." UsedCubicles.com does a great job of educating the customer about the benefits of used cubicles over new. "Our goal is to help the consumer realize the cost savings and environmental impact of purchasing used cubicles over new. Once they realize how much money they can save, while being green at the same time, it becomes a no-brainer from there."
Grant's knowledge of web design and used cubicles seems to have forged a successful path for his online future. "As long as I stay aware of the latest online technologies and my consumer's interests, UsedCubicles.com will be a successful website."
About UsedCubicles.com
UsedCubicles.com is a family owned business with over 30 years of office furniture experience. Carrying top brands like Herman Miller, Haworth, Teknion, Steelcase, Knoll and more, UsedCubicles.com is the nation's leading online retailer of new and used office cubicles with over 35,000 in stock. Servicing all 50 states and several countries abroad, UsedCubicles.com offers more high-quality used cubicles than any other retailer.