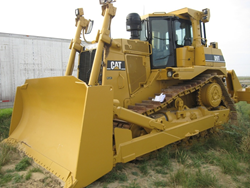 Economies in many emerging markets can't afford some of the late model used equipment. Couple that fact with decreased production and it creates opportunities for great deals.
League City, Texas (PRWEB) April 20, 2014
Representatives with Expert Heavy Equipment announced today that "now" is the perfect time to purchase used heavy equipment.
"With industry growth slated to increase nationwide and internationally, heavy equipment will be needed to keep up with the demand, particularly used heavy equipment," said Milissa Wise, Director of Operations for Expert Heavy Equipment.
The company's announcement could prove to have perfect timing and is backed by industry data.
According to a recent study released by the Association of Equipment Manufacturers, a trade association that provides services on a global basis for companies that manufacture equipment, products and services used worldwide, construction activity growth is estimated to increase annually by 6.5 percent for the next three years with a continuing increase in demand coming from China, as well as Latin America, the Middle East, and Eastern Europe.
The study also noted that improvements to the infrastructure in developing nations will also continue to fuel global demand for equipment, used equipment in particular.
"There's a good reason why now is a great time to buy used heavy equipment," Wise said, before adding, "Economies in many emerging markets can't afford some of the late model used equipment. Add to the fact that production of new heavy equipment is down."
And when it comes to getting a good deal, Wise stressed that EHE prides itself in being able to provide its customers with the best deal possible.
Wise, whose company receives 95 percent of its business from referrals and loyal repeat customers, pointed out that EHE's number one priority is to provide used heavy equipment at the absolute best pricing to ensure it maintains a high level of customer service and customer loyalty.
"We understand which used equipment is currently in demand," Wise said. "We have created different segments of suppliers to ensure we can meet those demands. We offer true wholesale pricing on all of our products, and we're one of the only companies to implement a policy of transparency by providing market data that validates fair market values on equipment and vehicles."
For more information, please visit: http://www.experthe.com.