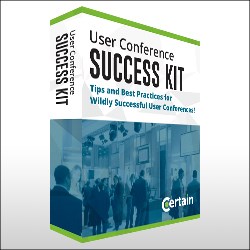 Marketers and event professionals will benefit from the success kit's included guide, webinar, and workbook.
San Francisco, CA (PRWEB) January 28, 2014
Certain, Inc., the leading enterprise event management technology company, announces its latest success kit to support the success of user conferences through powerful tips, strategies, and resources that elevate conference design and execution.
Marketers and event professionals will benefit from the success kit's included guide, webinar, and workbook covering a range of topics from utilizing proper technology to designing and executing an exceptional and engaging user conference.
The Technology Guide to Exceptional User Conferences provides a resource for conferences of all sizes and levels of sophistication to deliver value to all attendees. The guide highlights qualities of exceptional user conferences, how an event management platform can dramatically improve existing user conferences, a framework for prioritizing event management technology needs, and detailed descriptions of key technology components and their roles in conference management.
The webinar, Designing Exceptional User Conferences, shows event organizers how to bring the power of personalization to their events. The webinar explores how to effectively design an outstanding user conference through understanding the challenges involved in modern events, leveraging the latest technology, and discovering how to create exceptional conference experiences for all attendees.
The user conference workbook, How to Design and Execute a Highly Engaging Conference, features a step-by-step process to transform the user conference into a tailored and productive experience. It illustrates each step of user conference design and execution, and provides useful planning worksheets and a sample of a 180-day event timeline.
Visit certain.com to download the complete User Conference Success Kit.
About Certain: Powering Connections, Accelerating Business
Certain delivers the leading enterprise event management platform to personalize event experiences and provide meaningful connections that accelerate business. Certain integrates with enterprise systems like marketing automation and CRM, and the Certain Event Success Hub™ includes industry partners that extend event management capabilities. The Certain platform enables attendee management, utilizes a mobile app to simplify and speed-up event check-in and management, provides event branding as well as social and mobile participation, and facilitates 1-to-1 meetings that engage audiences and maximize event value for all participants. Headquartered in San Francisco, with offices in North America, Europe and the Pacific Rim, Certain is a strategic event partner to over 600 enterprise and event management companies. For more information, please visit http://www.certain.com.