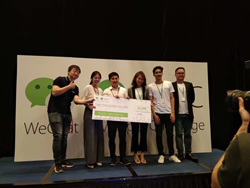 USER competed against top international developers and software engineers to win the prestigious competition that remains the key of Chinese SaaS
SINGAPORE (PRWEB) August 19, 2019
User Experience Researchers (USER), a Singapore-based digital marketing and user experience agency, has won the Public Vote Winner award at the prestigious 2019 WeChat Mini Program International Competition.
WeChat, a Chinese multi-purpose messaging, social media and mobile payment app developed by Tencent, is the world's largest standalone mobile application and described as China's "app for everything." WeChat's mini-programs are sub-applications within the WeChat ecosystem that provide advanced features and functionality to WeChat users, and Tencent's WeChat Mini Program Development International Competition is designed to challenge international teams to their development.
USER, the awardee of the 2019 Public Vote Winner award, competed against other international developers and software engineers in developing their mini-program. Their success in the competition reflects their ability to dominate the key Chinese SaaS platform and to develop functional solutions that are catered to improving social eCommerce, user experience, and marketing potential on the popular Chinese application.
About USER PR Agency Media Manager:
Media Manager branch business of USER specializing in market research, focus group and observational study. USER is a top user experience research and design agency and the first Singapore company to provide market research and user experience research, its professional team is firmed by NTU and NUS PHDs who are pioneers of the digital age and market research worldwide.