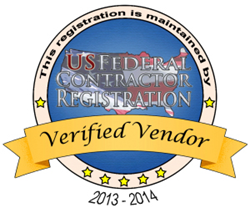 Orlando, FL (PRWEB) August 15, 2013
US Federal Contractor Registration is currently reporting a high number of contracting opportunities posted to FedBizOpps for the state of New York. There are currently over 480 available solicitations up for bid. Only properly registered government contractors are allowed to submit their bids to win these contracts. Contracting officers in the state of New York have already awarded registered contractors over $6 billion during the 2013 fiscal year, with a total of 67,858 transactions. So far, the federal government has spent over $239.0 billion on contracts in 2013 to date. With all the available bidding opportunities, US Federal Contractor Registration suggests businesses become registered properly in order to bid on these awards.
Over the last 5 years, the federal government has spent around $540 billion each year towards government contract awards, according to data on the USA Spending website. As the fiscal year closes, many procurement officers rush to spend the last of their budgets. This makes August and September an excellent time for contractors to search for and bid on new contracting opportunities.
However, in order for businesses to participate in federal contracting, they must first be registered. This involves obtaining a DUNS number and registering their information in the System for Award Management (SAM). Unfortunately, many business owners find the registration process complicated and time consuming. Even contractors already familiar with federal acquisition regulations may experience difficulty navigating the required websites and accurately reporting their company's data. For firms who are completely new to government contracting, keeping up with the jargon and laws associated with government contracting can pose a challenge.
"It is extremely important that a contractor's SAM Registration be complete and correct," advised Eric Knellinger, President of US Federal Contractor Registration. "Even a small typo can cause enormous problems when you're bidding on a contract. It can be devastating when a contractor has invested hundreds of hours into competition for a lucrative contract, one that could take their business to the next level, only to find that they've lost the bid because they didn't complete their registration correctly."
For a limited time, US Federal Contractor Registration is offering a free evaluation and review of vendors' SAM registration. The evaluation includes a complete audit of the vendor's registration, checking for missing or incorrect information. A Placement Specialist will also analyze whether the registration is fully optimized to help them win government contracts. To request the evaluation, businesses may call the Contractor Helpline at (877) 252-2700 ext 1. During the evaluation, Placement Specialists can also develop a government contracting profitability assessment for the vendor. This report is designed to help contractors identify current contracting trends and future opportunities within their industry.