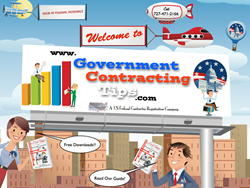 Orlando, FL (PRWEB) September 17, 2013
This past week, GovernmentContractingTips.com has been altering their original layout to make way with a new design that it sure to optimize government contracting knowledge for small businesses. The new layout features the website's main attraction, the 'First Steps to Government Contracting' guide. The 'First Steps' walks a new business through the full gambit of government contracting and breaks down the entire process from start to finish. From registering a business in System for Award Management (SAM) to marketing to the federal government, the 'First Steps to Government Contracting' guide covers everything a contractor would need to know.
GovernmentContractingTips.com also features a specialized web program called The SAM Assistance Program. The SAM Assistance Program describes federal set-asides, how to market a business and other ways to win contracts from the federal government. Each video helps explain a specific section in the guide. The 'First Steps to Government Contracting' guide is broken down in an easy to follow list to make sure contractors become eligible for government contracts.
The website was created to serve as an extremely useful source to contractors interested in learning everything there is about government contracting. The website's simple layout and free information packet downloads provide an enormous amount of tips to help contractors understand the process. GovernmentContractingTips.com recommends services like GovKinex and US Federal Contractor Registration due to their outstanding track record and their innovative registration and marketing strategies.
"When businesses reach out to federal buyers, everyone wins," commented Eric Knellinger, President of US Federal Contractor Registration. Mr. Knellinger continued to state, "GovernmentContractingTips.com is truly an excellent source of government contracting knowledge. If you search all over the internet you will not find a better source of contracting information in one location. The website is a great way to stay informed on current news in government contracting. It also has a lot of information on federal set-asides, federal regulations and different ways businesses can develop revenue in government contracting. Once you visit this website you will see that nothing matches the quality of their information."
GovKinex designs government-formatted websites for businesses that would like to market their business to the federal government. Every website features a business's past performance, government resume, DUNS #, CAGE code, testimonials and contact information. Each website is designed to bypass government firewalls and spyware for procurement officers to easily access a business's information.
US Federal Contractor Registration is the world's largest third party registration firm that connects contractors with procurement officers around the nation. US Federal Contractor Registration assigns a Case Manager to register a business in System for Award Management (SAM), and develops a marketing strategy specifically designed for that particular business