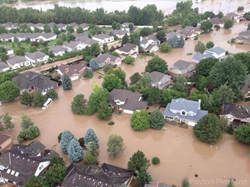 Orlando, FL (PRWEB) September 19, 2013
They are calling the Colorado flood 'biblical' due to the amount of rainfall that has started to accumulate in such a rapid amount of time. Colorado's rainy season was on a steady climb with a remaining 3.5 months to go. That was until on September 15th, 2013 when rainfall jumped to an all time high at 30.12 inches.  The massive amounts of rainfall caused flash flooding throughout the state. In 60 hours the Big Thompson Canyon managed to break the flood record stage of 8.4 ft and started overflowing into the surrounding streets and countryside. The Colorado Office of Emergency Management has evacuated close to 12,000 people in the flooded communities. There are currently 5 recorded flood related deaths and over 1,200 people reported missing since the flood began last week. Search and rescue teams are still canvassing the disaster strict areas for survivors.
President Obama has already declared this event a state of emergency and deemed it a major disaster due to the devastation. The Federal Emergency Management Agency (FEMA) has dispatched almost 400 workers in Colorado to help survivors register for disaster assistance. To help in these relief efforts of the Colorado flood you must be a federally registered government contractor to accept FEMA contracts and no bid contracts. US Federal Contractor Registration has registered thousands of contractors to help FEMA with disastrous events such as Hurricane Sandy and the Oklahoma Tornado. In the aftermath of every natural disaster, the federal government calls upon properly registered government contractors for relief aid.
US Federal Contractor Registration (USFCR) registers businesses in System for Award Management (SAM) to aid with flood relief in Colorado. USFCR has government contracting experts ready by the phone for businesses that need help registering to become involved with the Colorado flood destruction. Eric Knellinger, President of US Federal Contractor Registration, quoted, "Our thoughts and prayers go out to the families who have lost loved ones, homes and their way of life in this terrible disaster. We will assist in any way possible to help contractors become registered so they may assist in putting these people's lives back together. Contractors calling to become registered, please mention you are trying to become registered for the flood relief and we will do everything humanly possible to expedite your registration."
To help businesses quickly prepare for FEMA contracts, US Federal Contractor Registration now helps their clients complete their FEMA Vendor Profile, in addition to assisting them with their System for Award Management (SAM) registration. SAM registration is required in order to bid on federal contracts or applying for no-bid contracts with FEMA. To learn more about FEMA contracting, download the FEMA Informational Packet at GovernmentContractingTips.com. To contact USFCR's toll free Contractor Helpline, please call (877) 252-2700 Ext 1 or visits their website at https://www.uscontractorregistration.com/. Placement Specialists can also answer questions contractors may have about current FEMA contracts and no bid contracting opportunities.