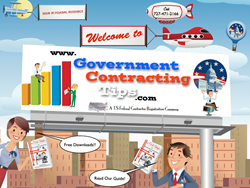 Orlando, FL (PRWEB) October 12, 2013
US Federal Contractor Registration recently rolled out another edition of their production of The SAM Assistance Program. Businesses that wish to learn about federal set-asides will find US Federal Contractor Registration's online video campaign 'The SAM Assistance Program' extremely helpful. They have released a new video entitled 'What are Federal Set-Asides in Government Contracting.'
All of the SAM Assistance Program videos can be found at GovernmentContractingTips.com on the First Steps to Government Contracting webpage, Youtube or US Federal Contractor Registration's social media pages (Facebook/Google+/Twitter).
The SAM Assistance Program is produced by the third party registration firm US Federal Contractor Registration. US Federal Contractor Registration is the leader and world's largest third party registration firm. They have helped over 50,000 businesses register for government contracts and help market their business to the federal government.
The prime vendors leading their fields continue to receive the majority of the contracts as a whole. Attracting the attention of the world's largest customer takes specialized skills and strategies to become one of their contractors. Using the proper resources and knowing how to market to prime vendors as well as the federal government will set a part a business from their competition. US Federal Contractor Registration provides innovative marketing strategies to help large and small businesses connect with procurement officers and win government contracts.
US Federal Contractor Registration will be currently offering a free evaluation and review of vendors' government registration. During the evaluation, a Placement Specialist will review the company's government contractor registration to ensure it is complete, contains the correct information and is optimized to help them win government contracts. This evaluation special will only be available to businesses for a limited amount of time. To request an evaluation and assessment by a Placement Specialist for your business, call the Contractor Helpline at (877) 252-2700 ext 1 or visit our website at https://www.uscontractorregistration.com/.